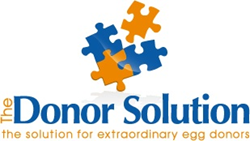 Houston, TX (PRWEB) April 07, 2014
The Donor Solution, a Texas-based egg donation agency, has added facial recognition software to their menu of services provided to their clients. This option allows recipients an added tool in helping them choose an egg donor who most resembles their facial features.
As a part of the process, intended parents submit a photo to The Donor Solution and software from Precision Donor™ constructs a mathematically precise model of their facial features. This model is then compared to all the donors in The Donor Solution database, bringing back a small sample of matching donors. Using this method, intended parents are virtually ensured they choose a donor that resembles them as closely as possible.
"Offering Precision Donor™ face recognition software services to our intended parents helps them make what is often a very tough decision a little easier," said Mary Fusillo, Executive Director and owner of The Donor Solution. "By the time they get to egg donation, recipients have been through so much, so I am always looking for ways to help make their part in the process easier."
About The Donor Solution
The Donor Solution is a donor egg agency managed by professionals in the women's healthcare and infertility field including a Registered Nurse with 14+ years of experience and a Board Certified OB/GYN with Reproductive Endocrinology experience as a consulting physician. Based in Texas and with offices in Houston, Dallas, Austin and Los Angeles, The Donor Solution has offered exceptional egg donation services for almost 10 years and has recently added surrogacy services to its business. For more information, go to http://www.thedonorsolution.com.