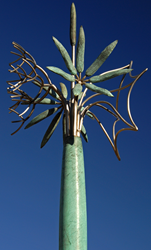 The City is firmly committed to making sure that art is accessible to all Houstonians. - City of Houston Mayor Annise Parker
Houston, TX (PRWEB) April 08, 2014
Upper Kirby District Foundation officials joined City of Houston Mayor Annise Parker and artist James Surls, along with area businesses and residents, in today's dedication of the 38-foot tall sculpture "Tree and Three Flowers" just installed in the Upper Kirby area in the median on Kirby Drive, south of Westheimer Road.
The artwork, also dubbed "Surls on Kirby," was commissioned by the Upper Kirby District Foundation in 2012 and is a 50/50 public-private partnership leveraging TIRZ and Upper Kirby Management District participation, as well as private donations from generous Houstonians. The massive piece was trucked in from Carbondale, Colorado in the Roaring Fork Valley, where Surls lives and maintains his art studio.
"The Foundation believes that 'Tree and Three Flowers' will become the defining symbol for Kirby Drive and the surrounding area," says Buddy Bailey, chairman of the board of the Upper Kirby District Foundation. "'Surls on Kirby' is the first completed project in our Public Arts Initiative -- one that we can take pride in and share with Houston residents and visitors alike. It is intended to signify growth and potential, to attract tourism and commercial patronage, to inspire creativity and to add to the community's sense of place. We hope to spearhead more public art to add to quality of life in the dynamic Upper Kirby District."
As Houston emerges as an international destination for commerce, dining and entertainment, civic art is proving to be an important part of the City's identity. Through recent public and private partnerships promoting public art, Houston is moving toward becoming an art tourism hub and a magnet for culture and education. "Tree and Three Flowers" is located just minutes from the Museum District and blocks from Gallery Row on Colquitt Street.
"I have been an admirer of artist James Surls and his impressive collection of large-scale pieces for many years," says Mayor Annise Parker. "The City is firmly committed to making sure that art is accessible to all Houstonians, and Surls' piece, "Tree and Three Flowers," will be seen by more than 50,000 cars a day in the Upper Kirby area making it one of Houston's most visible and iconic installations."
James Surls, an internationally-renowned artist, creates sculptures of wood, steel or bronze which reflect his unique sensibility to natural forms and is known for his large-scale pieces, making him a logical choice for this project. His art has been displayed in cities around the world, and many Houstonians collect his work. Born in Terrell, Texas, Surls has several Houston ties, including living in nearby Splendora for 20 years, founding the Lawndale Art Center, teaching at the University of Houston and exhibiting at Blaffer Gallery.
"'Tree and Three Flowers' is composed of formed elements showing the very essence of human beginnings," says Surls. "First is the vessel, that which has metaphorically represented our life-giving needs. This gives rise to the bloom of nature, centered by the spired reach of us all. I am so pleased that my creative process will make a mark in Houston. The opportunity to place a sculpture of this magnitude in such a public place is truly an honor."
Founded in May 1996, the nonprofit Upper Kirby District Foundation is dedicated to enhancing the Upper Kirby District for commercial and residential living and improving quality of life in the area. These goals are accomplished through education, community programs, public improvements, outreach services, beautification and environmental efforts. Learn more at upperkirbydistrict.org.