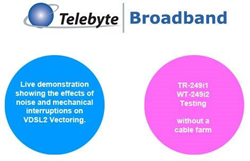 Learn about the importance of real-world testing of Vectored VDSL2 prior to deployment.
(PRWEB) April 03, 2014
Telebyte, Inc. announced today that it will launch a series of live demonstrations at different venues that include testing per TR-249i1/WT-249i2 and the effects of real world noise on VDSL2 Vectoring. The first of these will be at the Fixed Access Networks Summit taking place on April 8th - 10th 2014 in Movenpick, Berlin, Germany.
VDSL2 vectoring is a cost effective strategy employed by an increasing number of service providers to accelerate their superfast broadband rollout. Essential to that plan is the Quality of Service (QOS) for demanding customers. Noise can degrade that QOS resulting in consumer dissatisfaction. Service providers cannot be certain they are truly ready for mass deployment until their testing has faced the noise challenge.
While vectoring works by cancelling crosstalk between a group of VDSL2 lines, it does not cancel a wide variety of noises that can bombard the vectored group. These noises include Alien Crosstalk from lines outside the group, impulse noise, and RFI as well as interruptions of the signal due to physical imperfections on the line. The impact of these disturbances must be investigated to see how they affect data rates and stability – essential to QOS.
Visitors will see live demonstrations during the summit, showing the effects of complex noise and mechanical interruptions (micro-interruptions, single-wire interruptions, micro-shorts and disorderly leave) on VDSL2 Vectoring and learn about the importance of real-world testing prior to deployment. Equipment will include a DSLAM and several modems along with Telebyte's suite of VDSL2 Vectoring test products, including their 48-channel VxT-48 Crosstalk Emulator, 48-channel VxT-N48 AWGN Generator/Injector, 4901 Multi-Ouput Noise Generator and 500 Field Noise Capture system.
Related Link: http://fixedaccesssummit.com/live-demo/
About Telebyte
Headquartered in Hauppauge, New York, Telebyte, Inc. is a high-tech enterprise offering the world's first crosstalk emulator for VDSL2 vectoring physical-layer testing. Telebyte also sells an extensive selection of physical-layer test equipment used by major companies around the world for testing applications such as bonding, rate/reach, qualification, R&D and interoperability. Products include crosstalk emulators, local loop simulators, noise generators, field noise capture devices, switching modules and more. The primary focus for new product development is on VDSL2 vectoring and G.fast.
Since 1983, Telebyte has been dedicated to leading the industry in product quality and customer service, deploying thousands of Telebyte products around the world through its network of domestic and international distributors.
Membership: Broadband Forum, DSL Consortium at UNH-IOL.
For more information, please contact:
Victoria Twomey, Director of Sales and Marketing
Email: vtwomey(at)telebytebroadband(dot)com
Phone: +1 631-423-3232 ext 119
http://www.telebytebroadband.com