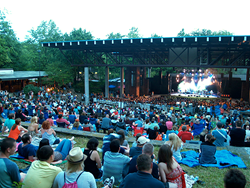 "Grammy winners Nickel Creek top a summer season of exceptional music at Cain Park."
Cleveland Heights, Ohio (PRWEB) April 09, 2014
Cain Park's 76th season features a celebration of milestones.
Nickel Creek celebrates its 25th anniversary year with their only Northeast Ohio performance on July 18. Jim Brickman "celebrates 20 years of music in the hometown of America's Piano Sensation" with a concert on July 19. Cain Park celebrates the 50th anniversary of The Beatles with a concert by Classic Albums Live, who will recreate Abbey Road live, on stage, note for note, cut for cut, on August 2. The Heights High School Barbershoppers celebrate taking first place in the nation at the International Youth Chorus Barbershop Festival by opening for the modern Canadian acappella group, Eh440, on June 13. And Cain Park celebrates the power of musical theater in tackling serious issues in Stephen Sondheim's satirical THE FROGS July 31-August 17.
Eight-time Grammy Award-nominated Tori Amos makes her Cain Park debut on August 7 in support of her latest album, Unrepentant Geraldines. Perennial Cain Park favorites The Average White Band return with a different partner on June 20: The Family Stone Band, who appear here for the first time. Natalie MacMaster returns June 22 after a fourteen-year absence and brings a new show, The Masters of Fiddle, which features another master fiddler — her husband, Donnell Leahy. Three-time JUNO winner and Songwriter of the Year, David Francey returns to Cain Park on June 19 with special guest Ashley Condon.
Cain Park also welcomes returning favorites Carolina Chocolate Drops (June 12), Judy Collins (June 14), Black Violin (June 28), Arlo Guthrie (July 27), and Michael Stanley and the Resonators (August 9).
A strong representation of local talent is featured in the $5 Friday series, the Free Chamber Music Series, Free Sundays in the Park, and Heights Got Talent on. And the Alma Cabaret Series features actors (Kevin David Thomas, Patty Lohr, Theresa Kloos, Angela Winborn, Tina Stump) who've performed at Cain Park in a wide assortment of musicals, and have now returned with original cabarets.
All tickets to the 2014 Cain Park season go on sale at 10 am on Friday, April 11 through Ticketmaster. The Cain Park Ticket Office opens for Cleveland Heights residents at 9 am on Saturday, May 24; for all others at 9 am on Saturday, May 31.
The free Parking Shuttle Service, once again made possible through the generosity of Motorcars Honda/Toyota/Scion, will be running for 16 concerts this season.
Cain Park 2014 season sponsors include Cuyahoga Arts & Culture, Ohio Arts Council, Severance Town Center, Intercontinental Hotels – Cleveland and Motorcars Honda/Toyota/Scion.
Cain Park, a municipally owned and operated summer arts park and one of the nation's oldest landmark outdoor theatres entering its 76th season, is produced by the City of Cleveland Heights and is located on Superior Road between Lee and South Taylor roads.