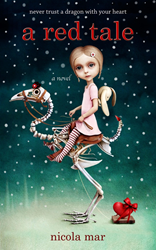 I'm a firm believer in meditation and that we all have a soul with greater purpose.
New York, NY (PRWEB) April 08, 2014
Vividly imagined and stunningly told, new novel 'A Red Tale' by fashion model turned author, Nicola Mar, envisions an Earth that has been changed irrevocably by a phenomena known as 'global cooling'.
Aimed at young adults, 'A Red Tale' follows the journey of 15-year-old Stasia Forrester, who lives on St. Michael, an island deep in the heart of the Caribbean. On St. Michael, the weather is snowy and the air is freezing, and its inhabitants can only dream of the tropical breezes and searing sun of the past. When a friend does age-regression hypnotherapy on Stasia, she begins to remember a past life, meets a magical water dragon named Billy, and is transported to Surritz, a utopia beneath the ocean's floor.
Nicola Mar wrote 'A Red Tale' in part to encourage young adults to explore their spirituality.
"I'm a firm believer in meditation and that we all have a soul with greater purpose," says Mar, who is from the Caribbean and used her own experiences to infuse the story with vibrant realism. "If I can inspire people to open their minds to the idea of past lives, and that we all have many lives, perhaps people will explore how their actions in this lifetime possess greater meaning."
In the brief time since its release, 'A Red Tale' has earned a five star rating on Amazon and attracted glowing reviews from readers.
"The author did an excellent job of keeping my attention through out the entire story. It was a very creative and interesting plot, and I enjoyed the story line so much I read the book straight through in one sitting. Looking forward to more books by Ms. Mar!" wrote Catherine.
"Once I started reading, I became addicted and could not stop. The author masterfully takes her readers on a journey into an unknown world where dragons have been living with humans. The book is written through the eyes of Stasia and hints at a variety of humanitarian issues. A great and thought-provoking book that is suitable for both young and adult readers," wrote Stephan.
Calling the book "beautiful and imaginative", John Allan wrote: "A Red Tale is beautifully written in very image-rich language that I found myself instantly lost in. The problems faced in the book are real, important, and wonderfully explored. This book will make you think. The author is clearly very creative, and each of her characters, settings, and events are overflowing with cleverness and joy."
'A Red Tale' is available now: http://www.amazon.com/dp/B00J5MY3J8.