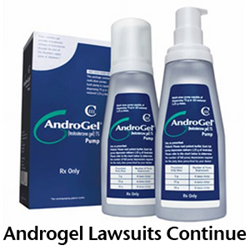 If your believe you have suffered cardiovascular problems due to testosterone therapy drugs such as Androgel and Testim, Call Wright & Schulte LLC today for a Free Legal Evaluation at 1-800-399-0795 or by visiting www.yourlegalhelp.com
Columbus, OH (PRWEB) April 10, 2014
With more than 30 AndroGel lawsuits now pending in federal courts around the country, plaintiffs are seeking to have the cases consolidated in a multidistrict litigation and transferred to U.S. District Court, Northern District of Illinois for coordinated pretrial proceedings. According to court documents, plaintiffs named in a dozen federally-filed AndroGel lawsuits requested the establishment of the multidistrict litigation in a brief filed with the U.S. Judicial Panel on Multidistrict Litigation (JPML) on March 28, 2014. (In Re: AndroGel Product Liability Litigation, MDL Docket No. 36 ).
The attorneys at Wright & Schulte LLC are actively speaking with men regarding Low Testosterone treatment drugs such as Androgel after the FDA's new concerns that low testosterone therapy drugs may be associated with heart attacks or strokes. Anyone believing they have suffered side-effects from Androgel or other "Low T" drugs are urged to call 1-800-395-0795 or visit [fda.gov/Drugs/DrugSafety/ucm383904.htm, January 31, 2014
According to the brief, at least 38 AndroGel lawsuits have been filed on behalf of men who allegedly suffered heart attacks, strokes and other serious cardiovascular problems due to their use of the low testosterone therapy medication. The majority of cases are pending in the Northern District of Illinois, while others have been filed in federal courts in Pennsylvania and California. The brief asserts that potentially thousands of additional claims could eventually be filed against the manufacturer of AndroGel, and that consolidation of the cases in the Northern District of Illinois will prevent duplicative discovery and inconsistent court rulings, and preserve the resources of the court, parties and witness.
AndroGel is a topical medication approved to treat hypogonadism (low testosterone) in men who suffer from the condition due to an underlying medical issue. On January 31, 2014, the U.S. Food & Drug Administration (FDA) announced it had launched a safety review of drugs like AndroGel, after two studies indicated that testosterone therapy might increase the risk of heart attacks, strokes and death in older men or men with pre-existing heart problems.
Court documents indicate that all of the currently pending AndroGel lawsuits were filed in the wake of the FDA's announcement. The claims allege AndroGel caused users to experience life-threatening cardiovascular problems, including heart attacks, strokes, and/or heart failure. Low testosterone therapy lawsuits involving AndroGel further allege that the manufacturer of the drug increased sales via marketing tactics that amounted to "disease mongering," and caused many men to seek treatment with AndroGel as a remedy for problems normally associated with the aging process. Plaintiffs also accuse AbbVie, Inc. and other defendants of concealing AndroGel's cardiovascular risks and its "serious propensity" to harm.
The attorneys of Wright & Schulte LLC believe that additional AndroGel lawsuits will be filed in U.S. Courts in the coming month, and agree that the consolidation of these cases in a single federal court will allow the litigation to proceed in the most efficient manner. The Firm is offering free, no-obligation legal reviews to individuals who suffered serious and life-threatening cardiovascular events that may be linked to their use of AndroGel. To learn more, or to arrange for a free legal consultation with an attorney at Wright & Schulte LLC, please visit yourlegalhelp.com.
About Wright & Schulte LLC
Wright & Schulte LLC, an experienced personal injury firm, is dedicated to the belief that America's legal system should work for the people. Every day, the attorneys of Wright & Schulte LLC stand up for the rights of people who have been injured or wronged and fight tirelessly to ensure that even the world's most powerful corporations take responsibility for their actions. If you're looking for a law firm that will guarantee the aggressive and personal representation you deserve, please do not hesitate to contact Wright & Schulte LLC today. Free AndroGel lawsuit case evaluations are available through yourlegalhelp.com or by calling 1-800-399-0795.
Contact:
Wright & Schulte LLC
812 East National Road
Vandalia, Ohio 45377
1-800-399-0795
http://www.yourlegalhelp.com
http://www.FaceBook.com
http://www.Twitter.com
[https://androgel.com/, AbbVie, Inc.]
[http://www.fda.gov/Drugs/DrugSafety/ucm383904.htm, January 31, 2014]