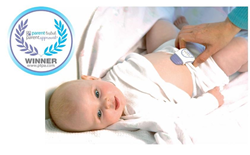 This product is amazing! Being able to bring it with baby is a great feature. Babies don't just sleep in a crib. Having peace of mind is something that is very hard to get as a new parent. This product helps, if even just a little bit
Cape Town, South Africa (PRWEB) May 22, 2014
Biosentronics cc is proud to announce they have won the highly coveted PTPA Winners Seal of Approval for their groundbreaking Snuza Hero monitor. PTPA Media has North America's largest volunteer parent testing community, with over 65,000 parents and was rated the Most Trusted Seal by over 22,000 parents across North America.
Consumers looking for high-quality products and services can rest assured when they see the PTPA Winner's Seal; it's evidence of a product's excellence from having been evaluated by unbiased parent testers.
Snuza Hero is a portable, cordless and easy-to-use movement monitor which clips onto baby's diaper to ensure that normal abdominal movement is maintained. Hero detects even the slightest abdominal movement and will alert you if your baby's movements are very weak or fall to less than 8 movements per minute. If no abdominal movement is detected at all for a period of 15 seconds, Hero will vibrate gently. Often this vibration is enough to rouse the baby, and Hero will revert to monitoring mode. After three vibration/rouse incidents, the Rouse Warning will alert you to the fact that your baby's abdominal movements have stopped for 15 seconds on three occasions. If no further movement is detected for another 5 seconds, an alarm will sound to alert you.
"Recognition of our unique product by a prestigious organization such as PTPA is extremely satisfying to the inventors and staff associated with the production of our Snuza Hero monitors," says Roger Gallagher Co-founder of Biosentronics.
About Biosentronics:
Biosentronics cc specializes in the development, manufacturing and marketing of leading edge bio-sensory electronic devices. They are dedicated to developing innovative, safe and easy to use products that enable today's parents to care for their children more effectively.
For more information on Snuza brand products, please go to http://www.snuza.com/index.php or visit Facebook https://www.facebook.com/SnuzaMonitors.
Biosentronics cc Media Contact Information
Karin Igesund
Tel: +27 21 461 8530
karin (at) snuza (dot) com
About PTPA Media Inc.
PTPA Media Provides an objective framework for appraising and promoting new products designed to enrich family living. The company's mission is to marry innovative companies with discerning consumers, to improve consumer access to quality products and services for their families and homes.
PTPA Media Contact Information
Janine Streiter
Tel: (905)738-1447 x 240
For more information, visit http://www.ptpamedia.com.