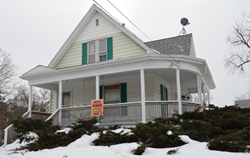 We are always grateful for training opportunities. This particular building allows for special consideration being within City limits to further heighten our awareness of surrounding issues while doing what we do best.
Cedar Rapids, IA (PRWEB) April 03, 2014
In December 2013, Cornerhouse Properties purchased the last standing structure in a square block at 1st Avenue and 28th Street in Cedar Rapids. This purchase allows the old Cornerhouse site to move forward with development plans of a new office complex at this location.
This final piece of land will be leveled flat along with the remaining property to prepare it for development. To do this, the remaining house needs to be demolished. Compass (acting representative for Cornerhouse Properties) attended the City's Historic Preservation committee to solicit their approval and endorsement to City Council for demolition. This step is necessary to validate that there is no viable historic significance to the building or reason for it not to be destroyed.
Cornerhouse Properties, now given the all clear to progress with demolition, made the determination that it would be a generous and useful effort to donate the demolition to the Cedar Rapids Fire Department for use in a 'controlled burn' training exercise. Its unique location within a residential area also provides a valuable training opportunity to practice safe fire management with concern for all nearby residences and businesses while conducting life safety and fire maintenance efforts.
The controlled burn will take place in the early spring after-which Cornerhouse Properties will eagerly move forward with development plans for a brand new office facility further enhancing the 1st Avenue corridor.
A representative from the Historical Preservation Committee also visited the house to tour the structure, take pictures and conduct further research to ensure it holds no historical significance to the City of Cedar Rapids. This site tour and research was conducted in mid-December with no historical relevance found that would inhibit moving forward with demolition.
Habitat for Humanity also toured the former home, as invited by Compass for the purpose of donating any equipment, appliances, items that could be used for their cause. Habitat has since removed items such as a good-as-new washing machine, hot water heater and numerous other valuable and useful items for use in their important work in the community.
About Compass Commercial Services:
Compass Commercial Services is a full-service General Contracting and Construction Management firm in the Cedar Rapids area specializing in a wide range of commercial construction projects including interior and exterior renovations, remodeling, building additions and the complete construction of new buildings. As a TRUE design-build firm, Compass Commercial Services is poised to complete projects from the ground up. From the initial design through the entire building process, customers have the advantage of working directly with one company, and a team that is structured to deliver final projects on time, and on budget.