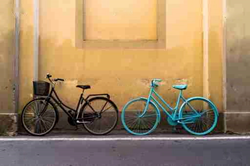 By starting in Florence, you have time at leisure to explore the Palazzi Churches and museums containing more art than any other city in the world.
Scottsdale, AZ (PRWEB) April 03, 2014
Pure Adventures, a leading pioneer in self-guided adventure travel, announces a new cycling tour that sees travelers starting their vacation in Florence, Italy, one of the world's most important and beautiful Renaissance cities.
Unlike comparable cycling tours throughout Italy, Pure Adventures' Cycling Florence to Chianti 4 Nights tour begins in Florence, a top destination for travellers interested in art and history.
"Our self-guided cycling tour allows you ample free time in Florence," says Pure Adventures founder Loren Siekman. "By starting in Florence, you have time at leisure to explore the Palazzi Churches and museums containing more art than any other city in the world," enthuses Siekman.
Travelers spend their first night at the Il Guelfo Bianco, an elegant hotel that is a carefully restored fourteenth century building. Located in the heart of the historic center, Il Guelfo Bianco is the ideal starting point for travelers to visit the many wonders of the city in complete comfort. Travelers are welcome to add an extra day in Florence to explore all the city has to offer.
From Florence, cyclists wind their way through the famous Tuscan countryside. "Cycling is one of the best ways to experience this famously romantic countryside," says Siekman. You'll ride through the vineyards of the "Chiantishire" and continue to San Gimignano before finishing in Siena.
"For cyclists seeking the ultimate Italian vacation, they are encouraged to add on Pure Adventures' 6 night Tuscany Vineyards 6 Nights Cycling Tour to their Florence to Chianti tour package. Starting in Siena, travelers visit Montepulciano, Pienza, Cortona and many other small villages along the route. "Be sure to try the wines! You will pass so many vineyards on your tour and if you feel like it, stop for a tasting," advises Siekman.
If you are looking for great bicycling, cultural interactions, and visit to major museums and vineyards in Tuscany these tours are for you! The tours offer custom add ons for wine tasting cheese tastings, spa as well as upgraded rooms and guided walks and visits. We can build you the perfect package," says Siekman.
Both self-guided cycling tours operate between March 15 and November 15. Because lodging in Florence are great demand in the summer and early fall, Siekman advises groups of six or more to book now to secure accommodations. And attention cycling and art clubs: if you are the trip organizer, you could travel for free (available as an incentive for the trip organizer, on groups of 10 or more). Contact Pure Adventures for details.
Self-guided tours from Pure Adventures Travel in 2014 span Austria, Belgium, Croatia, Czech Republic, England, France, Germany, Hungary, Ireland, Italy, Portugal, Scotland, Slovenia, Spain, Switzerland and the United States.
About Pure Adventures
Pure Adventures was founded in by Loren Siekman in 2004 following 10 years success creating France only self-guided tours, to meet North American client requests for high-quality, self-guided cycling tours in North America and Europe. Consulting with local experts for route development, sites to see, people to meet, where to eat, and shop and experience life as a local would, Pure Adventures has a full line of award-winning tours are competitively priced and meticulously planned. Substantial behind-the-scene support creates a unique combination that makes a Europe adventure more easily accessible to today's active traveler. Celebrating 20 years in Adventure Travel in 2014!