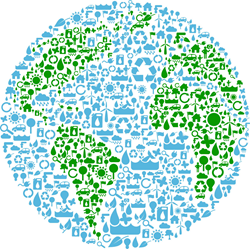 The simple act of textile recycling can make a huge impact on leading cleaner, greener lives in our communities.
(PRWEB) April 05, 2014
American Textile Recycling Service (ATRS) will participate in official Earth Day 2014 events nationwide this month beginning on April 5th. ATRS proudly pledges to create Greener Cities by sponsoring Clothing & Shoe Recycling drives at various locations and increasing community awareness about the huge impact textile recycling can make.
Clothing, shoes and household textiles are one of our most recyclable and renewable resources. In fact approximately 95% of unwanted textiles, whether worn or torn, can be reused and recycled. Yet only 15% of textiles are diverted from our community landfills. Earth Day 2014 represents a significant opportunity for ATRS to share the work it does each and every day in providing free, easy and convenient textile recycling solutions in neighborhoods across the nation.
"Earth Month is the perfect opportunity get out to participate in fun-filled, family friendly events in our neighborhoods," explains Debra Stevenson, Chief Marketing Officer for ATRS. "The simple act of textile recycling can make a huge impact on leading cleaner, greener lives in our communities."
Ready to LEARN, ACT and IMPACT during Earth Month? Learn how to Spring Green your closets using last seasons fashions and give them a second life. Participate in a DIY crafting project and transform old sweaters into a reusable cleaning items, or impact the lives of shelter pets by up-cycling unwanted bedsheets into cozy animal quilts.
Look for the ATRS signature globe, trademark green bubbles banner and recycling bins at the following Earth Day events:
Los Angeles, CA- Rancho Cucamonga Earth Day and Open House April 5th at 10AM
Orlando, FL- Central Florida Earth Day April 19th at 10 AM
Tucson, AZ- Tucson Earth Day Festival April 12th at 9AM
Houston, TX- Earth Day Houston April 12th at 11AM
Los Angeles, CA- City of Diamond Bar 25th Anniversary April 12th 11AM
Atlanta, GA-Georgia Tech's 17th Annual Earth Day Celebration April 18th at 10AM
Atlanta, GA- Cushman & Wakefield Sustainability Event April 21st
Phoenix, AZ- Earth Day Phoenix April 22nd 11AM
Denver, CO- Earth Day Denver April 22nd at 10AM
Oklahoma City, OK-OSU-OKC Earth Day Fair April 22nd 11AM
Dallas, TX- Earth Day Texas April 26-27th 10AM
Nashville, TN- Earth Day Nashville April 19th 10AM
Lansing, MI- Earth Day Celebration April 22nd 9AM
San Antonio, TX- Earth Day Fiesta at Woodlawn Lake April 12th 10AM
American Textile Recycling Service (ATRS) is the nation's fastest growing textile recycler and an official recycling partner of The Competitor Group. Its socially responsible business model provides free textile recycling solutions for the public, job stimulation worldwide and much-needed funding for worthy local charities. Easy, convenient ATRS Recyclers are available throughout Phoenix, Scottsdale, Tempe and Tucson AZ, San Antonio, Austin, Dallas, Houston, Galveston and Beaumont TX, Nashville, Florida, Michigan, Tennessee, Atlanta, Oklahoma, Colorado and Southern California. For press inquires contact pr (at) atrsonline (dot)com.