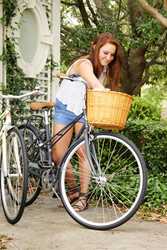 'City bikes are changing the bicycle industry by introducing new style and function oriented consumers to cycling,' says CEO Dr. Michael Spratt.
Dallas, TX (PRWEB) April 10, 2014
Move over single speeds and fixies, the City Bike is the new "in thing" for 2014 and they aren't just for "city folk." The new city bike is a culmination of style, design, functionality and everybody wants on board. The young, the old, the hipsters, the moms and dads, the college kids, the trendsetters, these bikes are for everyone says Bikesdirect.com. City bikes are now cruising around in every neighborhood from the cobble stone streets of Nantucket to the Palm Tree lined sidewalks of Palm Beach; from Lake Shore Drive in Chicago to Rodeo Drive in California and they can be spotted at farmers markets and coffee shops in between.
The cycling industry is racing to create options and styles to keep up with the demand for these city bikes that have the looks of a retro bike we saw in the 50's and 60's but have the ability to provide cyclists with comfort and functionality required from bicycles these days.
Big name bike companies like Electra, Felt, Jamis, Windsor, and Motobecane and smaller, bicycle companies like Detroit bikes, Public and Mercier have found that these city bikes are the key to getting everyday people out riding bikes. In the last two years this trend has been gaining more and more followers as individuals look for cheaper alternatives to transportation and family fun. The fact that one's bicycle can become an extension of their personality has also helped to catapult city bikes into the mainstream market. With accessories such as leather wine holders, skirt guards and handmade leather saddle bags available on sites such as etsy, it's no wonder the city bike theme has crossed over into fashion and home décor. It seems that store after store has sweaters, couch pillows or art featuring vintage city bikes. Even bicycle weddings have become a "thing", just ask Pinterest!
So get on board and seek out the right city bike design because this trend shows no sign of slowing down. Models such as the Windsor Essex start at $249.95 so there is really a city bike for everyone's budget. The minute a rider sits on one with its comfy leather saddle they immediately start thinking, "how can I accessorize this baby and what can I explore on my new set of wheels?"