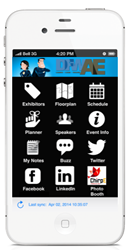 The Exposition Marketing & Management solution enables DFWAE to bring to its exhibitors and attendees an online interactive floor plan for the first time.
Columbia, MD (PRWEB) April 03, 2014
a2z, Inc., the Maryland based event management software company, is proud to announce their partnership with the Dallas Fort Worth Association Executives (DFWAE) to be the featured technology sponsor at Association Day 2014, 2015, and 2016. 2014 DFWAE Association Day will take place April 7, 2014 at the Embassy Suites Dallas - DFW Airport North / Outdoor World, in Grapevine, Texas.
As the technology sponsor, a2z will provide DFWAE a suite of a2z cloud-based solutions including:

ChirpE Photo Booth - an experiential and social media based photo booth solution - is integrated with Facebook and Twitter in real-time. Photo booth users can take their photo, type a fun testimonial and share on DFWAE's social media channels instantaneously. Attendees will be inclined to share their event experience with their friends and colleagues so as to have a chance to win a $100 gift card for the photo that receives the most likes on Facebook.
The a2z-powered ChirpE Mobile App Solution syncs in real-time with the event website, providing exhibitors and attendees an enhanced event experience. Using the 2014 DFWAE A-Day Mobile App, attendees can tag their favorite exhibitors, request meetings and add exhibitors' booth locations to their personalized planners. Attendees can also download session handouts and make personal notes as they attend each session and network with exhibitors on the exhibits floor. Users can now keep all of their conference meetings and appointments in one place with the personalized itinerary tool.
The Exposition Marketing & Management solution enables DFWAE to bring to its exhibitors and attendees an online interactive floor plan for the first time. Exhibitors can showcase their company, products, news announcements and show specials via customizable eBooth listings. Attendees can search the exhibitor list and create an individualized expo plan to track their favorite exhibitors.
The Conference Marketing & Management solution allows DFWAE to manage the conference program of the Association Day completely online. All the session descriptions, locations, schedule, as well as, speaker bios and handouts can be managed in one online location.
The Contractor Management solution benefits DFWAE's contractors who can now receive real-time CAD updates automatically.
We invite you to stop by a2z's booth 158 to explore how our award-winning Exposition & Conference Marketing and Management Solutions can significantly increase the profitability of your event. a2z's booth (look for our red shirts!) is adjacent to the DFWAE ChirpE Photo Booth in booth 157. Please also join us at the Happy Hour Networking Reception at 4:45 PM on Monday, April 7, 2014.
---
About a2z
a2z, Inc. provides powerful web-based event management tools that grow your show by increasing and accelerating booth sales, helping boost revenue, and enhancing engagement and value for everyone. a2z, Inc. powers more than 850 leading events every year. a2z's solutions are used by more events on the 2013 Trade Show Executive Gold 100 list than any other exposition and conference management software provider in the industry. Our clients benefit from increased connectivity with their audience via an improved website for their attendees and exhibitors and both web-based and native mobile app solutions. To fulfill our goal of developing quality solutions that help save money and meet your needs, a2z offers three platforms as one integrated solution: Expo & Conference Management, Networking & Lead Management, and ChirpE Mobile- which includes our web-based and native mobile apps for smart phone and tablet devices.
About DFWAE
The vision of DFWAE is to serve the association community by promoting professionalism, encouraging leadership development and facilitating the exchange of ideas and information through quality programs and services.