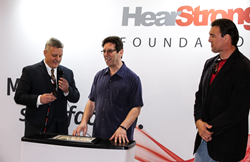 We are committed to providing cutting-edge tools and resources to private practices in order to help them reach more people in their communities. - Andrew Hebert, vice president of EarQ
Syracuse, NY (PRWEB) April 03, 2014
Throughout the 2014 AudiologyNOW! Convention, the hearing healthcare industry's largest trade show, on March 27 and 28 in Orlando, EarQ demonstrated how its innovative programs can deliver more patients, more potential, and more profits to hearing healthcare professionals.
With a strong focus on Baby Boomers, EarQ's exclusive suite of programs offer members geo-located patient leads, targeted referrals, and strategized brand expansion in their communities.
"We are committed to providing cutting-edge tools and resources to private practices in order to help them reach more people in their communities," said Andrew Hebert, vice president of EarQ. "AudiologyNOW! is a great way for us to connect with current practice owners, students, and our colleagues in the industry."
Through its non-profit organization, the HearStrong Foundation, EarQ also celebrated Sanford Freed as a HearStrong Champion for his inspirational accomplishments in overcoming hearing loss with the help of hearing devices and his work to further hearing loss awareness in his community.
Assisting the foundation in presenting Sanford's award was HearStrong Ambassador, and HearStrong Champion, Blaise Winter, former Green Bay Packer. Blaise was honored as a HearStrong Champion on December 9, 2013 at the Lambeau Field Atrium in Green Bay, WI.
AudiologyNOW! is presented by the American Academy of Audiology.
XXXX
About EarQ:
EarQ strives to revolutionize the hearing healthcare industry through innovative business and marketing practices, national public awareness efforts and advocating for excellence in private patient care. Through its nationwide hearing healthcare providers, EarQ will shatter the stereotypes surrounding hearing loss and empower the millions of Americans who experience it to take control of their hearing health.
Like us on Facebook.
Follow us on Twitter.