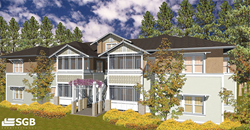 Shreveport, Louisiana (PRWEB) April 02, 2014
April 8, 11:00 a.m.:
Groundbreaking Ceremony for Renaissance at Allendale is the Housing Authority's First in the Allendale Community in 30 years.
April 9, 11:00 a.m.:
Ribbon-Cutting at Cypress Landing Celebrates Affordable Apartment Community's "Rebirth"
DETAILS:
On April 8, City officials, including Mayor Cedric Glover, will join community and church leaders, residents, and state and federal officials, for a ceremonial groundbreaking hosted by the Housing Authority of the City of Shreveport (HACS) for The Renaissance at Allendale, the housing authority's first new housing development in this historic urban neighborhood in more than 30 years.
Located on the site of the former Naomi Jackson public housing complex, The Renaissance is the first phase of a comprehensive three-phase revitalization effort that, when fully complete, will bring 120 units of new affordable housing to the Allendale neighborhood, a strategically located urban community with a rich history and easy access to downtown, public transportation, and educational and cultural centers, but which in recent years has suffered from a lack of public and private investment.
The Renaissance will offer 20 two bedrooms and 20 three-bedrooms, all affordable to families earning less than 60 percent of the area's median income. Ten of the units will be reserved for public housing residents. Amenities will include a community center with space for social services, and a playground.
Financing for the $7.7 million Renaissance at Allendale includes $5.3 million in private equity raised through the sale of federal Low Income Housing State Credits, $618,000 in HOME funds provided by the Louisiana Housing Corporation, and more than $950,000 in equity provided by the Housing Authority of the City of Shreveport. The Community Bank of Texas invested in the tax credits, which were syndicated by Prestige Affordable Housing Equity Partners, LLC.
Cypress Landing
Cypress Landing, formerly known as University Oaks I and II, has been transformed from an aging apartment community into a modern, quality, affordable rental community for Shreveport families after an extensive year-long renovation. The redevelopment of Cypress Landing, spearheaded by the Housing Authority of the City of Shreveport and its private sector partner, the Michaels Development Company, will conclude April 9 with an official "grand reopening" and ribbon cutting ceremony.
The 12-building, 124-unit rental apartment community has been completely modernized to provide quality, energy-efficient affordable housing for Shreveport families. Funded primarily from private equity raised from federal Low Income Housing Tax Credits and an $300,000 investment from the city, the $11.4 million revitalization of Cypress Landing is part of a comprehensive undertaking by the Housing Authority of the City of Shreveport to increase quality affordable housing opportunities for income-eligible residents of Shreveport. Renovations included new kitchens, baths, and flooring in the apartments, and extensive improvements to the exterior and building systems.
EDITOR'S NOTE:
Photo Opportunities will include officials "turning dirt" at the Renaissance at Allendale Groundbreaking and Officials cutting the ribbon at Cypress Landing.