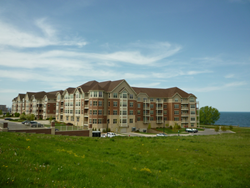 Milwaukee, WI (PRWEB) April 02, 2014
Those in the market for luxury living are invited to tour The Landing at Park Shore Condos. These luxury condos in Milwaukee provide a view like no other, as the community is serenely surrounded by Lake Michigan. The Landing truly offers a lakefront home "where the city skyline meets the lake shore."
Living at The Landing is all about lifestyle, as property offers landscaped courtyards, a club and billiards room, along with first class fitness center and whirlpool spa. If these, along with the many more amenities aren't enticing enough, the developers of The Landing are offering a fantastic special to new residents. From now through June 1st 2014, any new resident who purchases a condo at The Landing will not have to pay condo dues or taxes for the remainder of 2014.
This special offer makes living at these St. Francis condos just that much better. Call 414-482-0870 to schedule a tour. Take advantage of this rare opportunity to dwell in luxury at a condo to call your own, and live without dues or taxes for the remainder of the year.
About The Landing Condominiums
It didn't take long for The Landing to become one of Milwaukee's premier condominium communities. Conveniently located on South Lake Drive, The Landing is minutes from downtown Milwaukee and the restaurants, shopping and sporting events that the city provides.
The luxury that our condos provide is unparalleled, providing a resort atmosphere. There are 14 distinctive luxurious condominium floor plans to choose from, which are sure to suit any taste and budget. It is all about lifestyle at The Landing, as those who live here enjoy breathtaking views of Lake Michigan with its sunrises of windswept sails and seagulls to the night sky city lights of downtown Milwaukee.