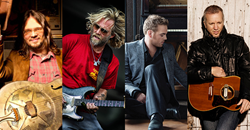 Fairfield, CT (PRWEB) April 02, 2014
Fairfield Theatre Company will host a special intimate evening of guitar legends at the Norwalk Town Hall as they present Southern Soul Assembly at 8 p.m. on April 9.
Featuring a "who's who" of talented southern singer/songwriters, Southern Soul Assembly stars JJ Grey, Marc Broussard, Anders Osborne and Luther Dickinson (Black Crowes, North Mississippi All-Stars). Each of these four musicians comes to the SSA with a proven track record in the often-overlapping genres of music most closely associated with the South.
"That's where we all come from," says Grey, best known as the front-man of Jacksonville Florida's JJ Grey & Mofro, whose hybrid mix of soul, funk, blues, and gutsy rock is sure to find its way to the Assembly's gigs as well.
"It's a bit of a mystery as to exactly what will unfold on the road and on the stage," says Grey. "That's the excitement of it. I'm looking forward to the whole interaction, the whole front porch feel, drinking a beer and hanging out and playing music."
One thing is for certain though: the Southern Soul Assembly will live up to its name. "The South is in each of us," they say, drawing from the rich legacy of American Southern culture of the players. "Just like food in the South, our music is greasier than most," says Broussard. "The beat is on the backside, generally, because it gets too hot for people to move too quickly."
Indeed, each member brings a strong Southern pedigree to the tour. But as Louisiana's Broussard explains, "… we all have a different take on what the South really is. I come from the hub of Cajun culture, distinct in many ways even from New Orleans just down the road. From what I can tell, we all seem to approach writing with groove in mind, for the most part. But the physical locales from which we each hail, as well as the accompanying cultural implications, necessarily prompt us all to approach lyric writing differently."
The idea for the band and tour came about, says Grey, because, "Most of us know each other pretty well just from crossing paths on the road. There is a common theme underlying what we each do—it's the South, the landscape and the culture of our surroundings. That theme is present in each of our song collections. But we all have different perspectives," he adds, "and the flavors vary. It's going to be fun, and we're all really looking forward to it."
With each artist uniquely inspired by his deep Southern roots, the Southern Soul Assembly show promises to be a passionate, authentic and deeply soulful homage to the rich Southern musical spirit.
Doors for the April 9 show open at 7 p.m. Tickets are between $35 and $55 and a members' discount of $3-$5 is available. Call the box office at 203-259-1036 or visit http://www.fairfieldtheatre.org.
About the company:
Fairfield Theatre Company is a highly-acclaimed non-profit performing arts organization located in the heart of downtown Fairfield, Connecticut. FTC presents nearly 250 performances and concerts each year featuring outstanding national talent on FTC's StageOne in Fairfield, The Klein Auditorium in Bridgeport, and the Norwalk Concert Hall in Norwalk. FTC's intimate 200-seat StageOne concert venue is widely recognized as being one of the best places to see a live performance in the region. FTC is dedicated to providing the highest-quality arts, live entertainment and educational experiences to the communities it serves.