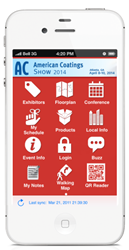 The a2z-powered ChirpE mobile solution offers on-the-go access to the interactive floor plan, a new tool offered this year.
Columbia, MD (PRWEB) April 03, 2014
a2z, Inc., the Maryland based event management software company, announces that the American Coatings SHOW will leverage the ChirpE native & web-based mobile app solution for the 2014 event in Atlanta, Georgia. American Coatings SHOW 2014 is scheduled for April 8-10, 2014. The ChirpE mobile app is available for iOS and Android devices as well as all internet-enabled smart phones.
Participants can view the latest informational email for details on where to download the mobile app.
The a2z-powered ChirpE mobile solution offers on-the-go access to the interactive floor plan, a new tool offered this year. The powerful a2z mobile solution syncs in real-time with the event's website and floor plan, providing exhibitors and attendees an enhanced event experience.
Attendees can tag their favorite exhibitors, request exhibitor meetings and add their booth locations to their personalized walking maps. In addition, conference attendees can quickly and effectively search the extensive conference offerings, view session and speaker details, and make personal notes about each. Users can keep all of their conference meetings and appointments in one place with the personalized itinerary tool.
Check out the tutorial videos for more details about how the mobile solution can boost attendees' efficiency and effectiveness while at the SHOW.
About American Coatings Show
The American Coatings SHOW and CONFERENCE is organized by American Coatings Association and Vincentz Network, and managed by NürnbergMesse North America. The biennial trade show and technical conference is dedicated to serving as a global business platform and educational forum for the paint and coatings industry, offering a complete spectrum of current and future trends and technologies.
For more information about the conference please visit http://www.american-coatings-show.com/.
About a2z
a2z, Inc. provides powerful web-based event management tools that grow your show by increasing and accelerating booth sales, helping boost revenue, and enhancing engagement and value for everyone. a2z, Inc. powers more than 850 leading events every year. a2z's solutions are used by more events on the 2013 Trade Show Executive Gold 100 list than any other exposition and conference management software provider in the industry. Our clients benefit from increased connectivity with their audience via an improved website for their attendees and exhibitors and both web-based and native mobile app solutions. To fulfill our goal of developing quality solutions that help save money and meet your needs, a2z offers three platforms as one integrated solution: Expo & Conference Management, Networking & Lead Management, and ChirpE Mobile- which includes our web-based and native mobile apps for smart phone and tablet devices.