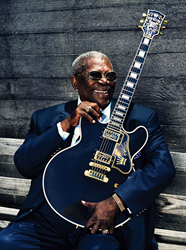 Fairfield, CT (PRWEB) April 02, 2014
Fairfield Theatre Company will host B.B. King, the legendary Grammy Award-winning blues guitarist, at the Klein Auditorium at 8 p.m. Friday, April 18.
For more than half a century, Riley B. King – better known as B.B. King – has defined the blues to a worldwide audience. Born on a plantation in Itta Bena, Mississippi, King began recording back in 1940. King knew his calling at a young age and began playing for dimes in up to four towns a night. In 1947, King hitchhiked to Memphis, TN, to pursue his music career and stayed with his cousin Bukka White, one of the most celebrated blues performers of his time, who schooled King further in the art of the blues.
King got his first big break in 1948 when he performed on Sonny Boy Williamson's radio program on KWEM out of West Memphis. With the door partly open, King would soon find himself having steady engagements at the Sixteenth Avenue Grill in West Memphis, and later to a 10-minute spot on black-staffed and -managed Memphis radio station WDIA.
The "King's Spot" became so popular that it was expanded and became the "Sepia Swing Club" and soon King needed to come up with a catchy radio name. What started out as Beale Street Blues Boy was shortened to Blues Boy King, and eventually B.B. King.
Over the years, King has developed one of the world's most identifiable guitar styles. Having learned from the likes of Blind Lemon Jefferson, T-Bone Walker and others, King has integrated his precise and complex vocal-like string bends and his left hand vibrato, both of which have become indispensable components of rock guitar's vocabulary. With an every-note-counts approach, and effortless phrasing, King has been a model for thousands of players since he began, including Eric Clapton, George Harrison and Jeff Beck. King has mixed traditional blues, jazz, swing, mainstream pop and jump into a unique sound. In his words, "When I sing, I play in my mind; the minute I stop singing orally, I start to sing by playing Lucille."
His reign as "King of the Blues" has been as long as that of any monarch on earth. Yet King continues to wear his crown well. At age 88, he is still light on his feet, singing and playing the blues with an inexorable passion. Time has no apparent effect on King, other than to make him more popular, more memorable, and of course, more relevant than ever. Having released over 50 albums, King shows no sign of age and continues to do what he loves. His talent is well vindicated, too. He's received countless awards and honors, including induction into the Blues Foundation Hall of Fame in 1984, the Rock and Roll Hall of Fame in 1987, NARAS' Lifetime Achievement Grammy Award in 1987 and honorary doctorates from Tougaloo(MS) College in 1973; Yale University in 1977; Berklee College of Music in 1982; Rhodes College of Memphis in 1990; Mississippi Valley State University in 2002 and Brown University in 2007, as well as the National Award of Distinction from the University of Mississippi in 1992.
Get tickets fast as Fairfield Theatre Company presents another award-winning performer at the Klein Auditorium and hear why B.B. King is known as the "King of the Blues."
Doors open at 7 p.m. and the show starts at 7:30 p.m. Tickets cost between $45 and $125. Members can save between $4 and $20. To purchase tickets for B.B. King's show, visit http://fairfieldtheatre.org/ or call the box office at 203-259-1036.
About the company:
Fairfield Theatre Company is a highly-acclaimed non-profit performing arts organization located in the heart of downtown Fairfield, Connecticut. FTC presents nearly 250 performances and concerts each year featuring outstanding national talent on FTC's StageOne in Fairfield, The Klein Auditorium in Bridgeport, and the Norwalk Concert Hall in Norwalk. FTC's intimate 200-seat StageOne concert venue is widely recognized as being one of the best places to see a live performance in the region. FTC is dedicated to providing the highest-quality arts, live entertainment and educational experiences to the communities it serves.