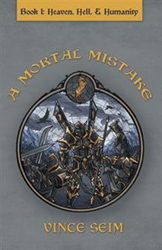 Chauvin, Alberta , Canada (PRWEB) April 03, 2014
While bringing forth deep questions rooted in the meaning of family and the world around us, Vince Seim weaves readers through a complex web of trust and luck in his latest epic novel.
"A Mortal Mistake," follows the story of Conrad Metz who ventures into the Desert of Lost Souls to find his exiled brother. From there, the story takes a fast turn into adventure as he is ambushed by a band of rogues.
While this story is a fast-paced fantasy adventure, it is also a one that shares important messages throughout the tale. Perhaps one of the strongest messages in this book is about dealing with the consequences of our actions.
"We think more about ourselves and not about how our words or actions will impact those around us either directly or indirectly," Seim said.
Seim's novel also shares the struggle for survival that is rooted deep inside every human. How far would one go for family? How many innocent lives would be sacrificed for the greater good? Where does your own life stand when compared to the person beside you when considering your own survival?
"The struggle for survival has been ongoing since the dawn of time, and many do not think about it in its true and rawest form," Seim said.
"A Mortal Mistake"
By: Vince Seim
ISBN: 978-1475970654
Available at Amazon, Barnes and Noble Booksellers and iUniverse online bookstores
About the author
Vince Seim grew up on a small farm outside the small village of Chauvin, Alberta. With no cable or Internet and nothing but wide-open space, Seim began to rely on his imagination for fun. He has always had an interest in the creative from writing to drawing and is currently working on his next literary adventure.
# # #