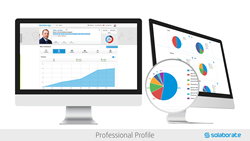 Los Angeles (PRWEB) April 03, 2014
Solaborate, the first professional social and collaboration platform dedicated specifically to the technology ecosystem, today announced the release of insights to provide technology professionals and companies a better way to understand how users are engaging with published content in real-time.
Solaborate launched its public beta on October 22nd, 2013 allowing users to register and try out its platform, after having announced last year that it raised $1million in seed funding.
Solaborate gives tech professionals and companies the power to better drive and support their products and services they offer by providing productive tools and services in one central place - not only to connect, but also collaborate in real time. It's a new way for the tech ecosystem to be more productive.
Whether user is sharing a how-to guide, product demo, video, blog, tech news or any other content on Solaborate, users want to understand the posts that matter most to audience by enhancing those conversations with meaningful insights. Solaborate insights provides aggregated anonymous statistics from likes, shares, comments, demographics, trends, and more, all in real-time.
Solaborate insights helps professionals improve social presence with a sophisticated social scoring system to measure their professional and social influence and enhances their credentials. Even companies and their products and services have scores, so that the technology community can measure and contribute to their social presence marketplace. The score is designed to help stakeholders in the tech ecosystem measure and benchmark their influence against their peers in the marketplace, helping to distinguish them from others.
Insights key features:

See the reach of content as well as anonymous demographics information
Insights and quantitative results into audience activity and response
Real-time profile measurement, as well as that of the company, products and services
Sophisticated social scoring system to measure your professional and social influence.
Insights Key Values:

Improves company, product and services social presence
Provides better understanding on how users are engaging with published content
Improves productivity and customer user experience by sharing the right content
Helps to plan future posts and decide on the best ways to connect
Single view to see the best and worst performing posts for the appropriate action
Detailed analytics track visitors, likes, views, comments, social shares, demographics
Creates the best content for the users by understating what they respond to.
"We understand that it's very hard to improve if you can't measure your activity, and for this reason we provide users insights to help measure the performance of their personal profile, well as that of the company, products and services in real time," says Labinot Bytyqi, Founder and CEO of Solaborate.
# # #
About Solaborate:
Solaborate is a social and collaboration platform dedicated to technology professionals and companies to connect, collaborate, discover opportunities, and create an ecosystem around products and services. Solaborate provides technology professionals with a central place with the right tools and services to collaborate in real time and be more productive.
Learn more about Solaborate and its insights capabilities by watching this video or visiting features page.
For more information contact:
Mimoza Bytyqi
Co-Founder and CMO
Solaborate LLC
Email: mimoza.bytyqi(at)solaborate(dot)com