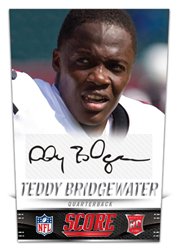 Irving, Texas (PRWEB) April 02, 2014
Panini America (http://www.paniniamerica.net), the world's largest sports and entertainment collectibles company, announced today that it has signed former Louisville quarterback Teddy Bridgewater to an autograph trading card agreement that will include Bridgewater's first NFL-licensed Rookie Cards and autographed trading cards.
Bridgewater, a projected high first-round pick in May's 2014 NFL Draft, is one of several key players expected to spearhead the most exciting NFL Draft classes in many years. Bridgewater's first NFL Rookie Cards and autographed cards will arrive in the June release of Panini America's 2014 Score Football.
In addition to the trading card agreement, Bridgewater will be featured on select 2014 Panini NFL trading card products throughout the year and participate in Panini marketing and social media related initiatives.
"Fans and collectors are eagerly anticipating the 2014 NFL Draft Class and Teddy Bridgewater is a big reason why," said Panini America CEO Mark Warsop. "Rookie Cards drive the trading card industry every year and, as a result, 2014 is shaping up to be a spectacular season for sales of Panini America NFL trading cards. We're excited about our relationship with Teddy and what that partnership will mean for our business."
During a spectacular three-year career at Louisville, Bridgewater passed for more than 9,800 yards and 72 touchdowns. He was named the Big East Rookie of the Year in 2011 and the Big East Offensive Player of the Year in 2012. In the 2013 Sugar Bowl, Bridgewater passed for 266 yards and two touchdowns en route to a 33-23 upset victory over Florida and game MVP honors.
"As a kid growing up, having your own NFL Rookie Card is always something you dream about. Now, thanks to my relationship with Panini America, that dream is about to come true. I can't wait to see them and have kids collect my cards," said Bridgewater.
Panini America is the only company in the world that manufactures licensed trading cards and stickers for the NBA, NFL, NFL PLAYERS, NHL, NHLPA, MLBPA and FIFA World Cup. The company also has exclusive relationships with USA Baseball, USA Basketball and the U.S. Soccer Women's National Team. In addition, Panini also has relationships with the Naismith Memorial Basketball Hall of Fame, The Pro Football Hall of Fame and the National Baseball Hall of Fame and owns exclusive entertainment licenses with Disney, One Direction and Michael Jackson, and more than 600 global licenses with other sports and entertainment properties.
About Panini:
The Panini Group, established almost 50 years ago in Modena, Italy, has subsidiaries throughout Europe, Latin America and the United States. Panini is the world leader in officially licensed collectibles and is the most significant publisher of collectibles in the U.S., with official licenses for MLBPA, NBA, NFL, NHL, FIFA, USA Baseball, Disney, Nickelodeon, Warner Bros. and other key properties from many other licensors. Panini has distribution channels in more than 100 countries and employs a staff of over 800. For more information, visit us at http://www.paniniamerica.net, http://www.paninigroup.com or http://www.paniniamerica.wordpress.com. You can also follow Panini America on social media platforms Facebook, Twitter and on YouTube.