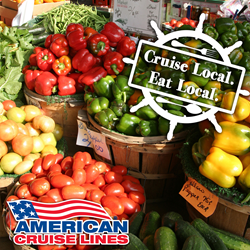 This program not only enhances the culinary experience for our guests, but also supports local economies and a balanced environment. - Timothy Beebe, Vice President, American Cruise Lines
Guilford, CT (PRWEB) April 04, 2014
GUILFORD, CT – April 4, 2014 – American Cruise Lines (http:// http://www.americancruiselines.com) today announced the introduction of Cruise Local. Eat Local, a new dining initiative for locally-sourced produce, meats and ingredients to provide the most delicious regionalized menus onboard. Sustainable cuisine supports the many small towns American Cruise Lines visits, and ensures the least impact on the ecosystem of the regions cruised. Creating the ultimate dining experience for guests using sustainable ingredients is the driving factor behind the Cruise Local. Eat Local program, and is achieved by:
-Sourcing produce, fish, and meats as near as possible to each cruise.
-Supporting local farmers' markets and small American businesses.
-Communicating with local vendors and checking the Seafood Watch index to understand the current impact on fish populations.
-Limiting waste by offering half portions and carefully customized options.
"This program not only enhances the culinary experience for our guests, but also supports local economies and a balanced environment," said Timothy Beebe, Vice President of American Cruise Lines. "Nothing makes a menu more appealing than knowing it was developed based on well-informed decisions and a conscious effort to source locally."
The executive chefs aboard American Cruise Lines take advantage of extended time in port to soak up the local flavor and apply it to the various dishes served onboard. From the fresh catch of the day, to homemade ice cream topped with locally-grown berries, guests can expect the tastiest and freshest cuisine. Following is a regionalized sampling of what guests can expect from the Cruise Local. Eat Local program:
Columbia & Snake Rivers
-Freshly caught Northwest salmon and sturgeon
-Astoria honey, Rainier cherries, and heirloom tomatoes gathered at local farmers' markets
-Unique ice creams produced nearby featuring mint, huckleberries, and cherries
Mississippi River
-Certified Berkshire pork from Berkwood Farms, a local vendor in Des Moines, Iowa
-Artisan cheeses sourced from nearby dairy farms and creameries in Wisconsin
-Freshly-made pralines, a New Orleans specialty
Southeast
-Maryland blue crabs are served in a variety of ways, including seared, deep-fried, and roasted
-Apalachicola Bay oysters, hand harvested in Florida
-Fresh wild-caught Georgian shrimp completes shrimp cocktails, seafood salads, and entrees
New England
-Fresh Maine lobster is offered in 28 different preparation styles
-Maine Root Blueberry soda is a local specialty served onboard, made with Fair Trade organic cane juice and Maine blueberries
-Craft beers such as Lobster Ale and Allagash Beer from local breweries
American Cruise Lines offers more than 35 unique itineraries throughout the United States and is dedicated to sourcing locally on each cruise route. Click here for a full list of examples of locally-sourced foods, sample menus, and to learn more about the Cruise Local. Eat Local program.
About American Cruise Lines
American Cruise Lines is the largest U.S. cruise company and operates the newest fleet of riverboats and small cruise ships on more than 35 itineraries around the country. The line is known for working closely with guests and travel agents before, during, and after a cruise to create a highly personalized cruise experience. Long established and deeply experienced in cruise travel, American Cruise Lines has most recently received world-wide recognition as the first line to revive paddlewheel river cruising in America. To learn more about American Cruise Lines, visit http://www.americancruiselines.com or call 800-814-6880. Find us on Facebook at http://www.facebook.com/americancruiselines or follow us on Twitter at http://www.twitter.com/american_cruise.
###