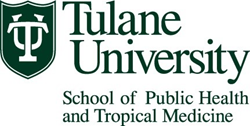 By the time the week ends, it will be obvious that "Public Health: Starts Here" at Tulane...
New Orleans, LA (PRWEB) April 08, 2014
The Tulane School of Public Health and Tropical Medicine will celebrate National Public Health Week at both the downtown campus where graduate classes are held as well as on the uptown campus where university undergraduate classes are held. Events will also be held in the community. By the time the week ends, it will be obvious that "Public Health: Starts Here" at Tulane.
Graduate School Events
Downtown, The Tulane Maternal and Child Health Leadership Training Program will kick off the week on April 7 by sponsoring a webcast with alumnus Mr. Chris Gunther, manager of strategic initiatives for the City of New Orleans Health Department. Mr. Gunther will discuss "Stopping Violence Before It Occurs: Violence Prevention, Maternal and Child Health, and Public Health." The webcast will be produced by the Alabama Department of Public Health.
Dr. Tom Farley, former chair of the school's Department of Community Health Sciences, will speak on both campuses during NPHW. On April 9 he will be downtown presenting on "Saving Gotham: Policy and Environmental Approaches to Health Promotion in New York City, 2002-2013." Dr. Farley is the former health commissioner for New York City.
Undergraduate Events
The Public Health Undergraduate Student Government has developed a full slate of uptown events for NPHW around several key topics. The week begins on April 7 with "What is Public Health," with BSPH students sharing information about the field and inviting students to take a photo then finish the question "Public Health is…" with their own thoughts then sharing on Instagram @tulanepublichealthusg.
On April 8, the undergraduates take on the Affordable Care Act, with nationally known political strategist Mr. James Carville and Clinical Assistant Professor of Global Health Systems and Development Mollye Demosthenidy. Mental health is the topic for April 9, including yoga on the quad, study break snacks, and presentations.
Dr. Farley speaks again on "Saving Gotham" at the university student center on Thursday, April 10th. Finally, on April 11, the undergraduate focus will be on nutrition, with a healthy lunch and snacks on the uptown campus pocket park. Student leaders will explain what the Public Health Undergraduate Student Government does.
Community Events
The Gulf Region Health Outreach Programs, a collaborative effort of the Department of Global Environmental Health Sciences, is presenting daily NPHW events focused on the community:

On April 7, the topic is "Eat Well" with cooking demonstrations and samples from the Lose Dat Program, presented at the Tulane Community Health Center in New Orleans.
April 8th focuses on "Be the Healthiest Nation in One Generation" with a women's wellness program at the Common Ground Health Clinic in Algiers, La.
On April 9, Participants are invited to "Be Healthy from the Start" at the Crossroads Pregnancy Center in Thibodaux, La.
April 10th is the day set aside to "Get Out Ahead" with emergency preparedness and diabetes management seminars in Belle Chasse, La.
Finally, on April 11, the topic is "Don't Panic," with a domestic violence seminar at the Tulane Community Health Center.
The school will also promote and participate in the NPHW twitter chat on April 9, inviting our community to share and learn on a number of key topics.
About Tulane's School of Public Health
Tulane's School of Public Health and Tropical Medicine is the only American combined school of public health and tropical medicine and the oldest American school of tropical medicine. The school's mission is to advance public health knowledge, promote health and well-being, and prevent disease, disability, and premature mortality. This is accomplished through education of public health professionals, scientific research of problems, partnerships, and service to the global public health community. A leader in global health, the school is comprised of six academic departments: biostatistics and bioinformatics, global community health and behavioral sciences, global environmental health sciences, epidemiology, global health systems and development, and tropical medicine. For more information, please visit http://www.sph.tulane.edu/.