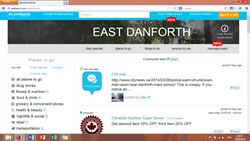 A neighbourhood site should have a business, social, and real estate component. Otherwise, it's not complete. Grant Findlay-Shirras, CEO, Parkbench
Toronto, Ontario (PRWEB) April 04, 2014
Parkbench has risen to the top of the list of neighborhood networks sites, edging out competitors like Nextdoor and Block Avenue by giving more value to its users. Neighborhood networks are poised to become the next big social networking trend. Early adopters Nextdoor and Block Avenue in the U.S. are being overshadowed by Parkbench in Canada as the first place where people are able to discover their surroundings and meet their neighbors online.
Social media has become so much a part of so many people's lives that it is hard to remember a time when a person couldn't find out what was going on around them just by logging into Facebook, or find a restaurant by checking out Yelp, Urban Spoon or just clicking through Google Maps. People check in on Facebook, share their current location using Foursquare, they can instantly share photos on Instagram, and they can share trends, fashion sense and craft ideas on Pinterest. The next social media trend appears to be neighborhood specific sites that offer everything about a neighborhood in one place.
The world is more connected than ever before, yet face to face socialization is declining. Before the advent of the internet, people had to leave their homes to shop, work and play. They interacted with their neighbors as they passed them on the sidewalk. They knew their neighbors, the local butcher, and the pharmacist down the street. People are starting to see that neighborhoods where people know one another are much safer than ones where people don't interact.
Shopping local is better for the economy, for the value of their homes, and for the overall quality of life in a neighborhood. Safety increases when people know their neighbors, and people who condense their living area do more and have more fun.
So how do these sites stack up? Here is a breakdown of the three new neighborhood sites:
Nextdoor works on the concept of safety by providing a private social network for neighborhoods. Based in California, it claims be in 56,000 throughout the U.S. and has millions of user.
Pros: It is private. All the people on the site are likely to be real people as users must use their real name and verify a street address in order to use the site.
Cons: It's private! Meaning that if users want to discover businesses or talk about key issues in nearby neighborhoods, they simply cannot. People will often live in one neighborhood, work in another, and frequent another couple for entertainment. By being private, it prevents people from discovering other local products, services, and other neighborhood landmarks.
Nextdoor also doesn't have a place where neighborhood businesses can promote themselves. They say they may get there, but why not now? The prosperity of local small business leads to the prosperity of the neighborhood.
Their codes of conduct seems to restrict users from posting too much content. This can be a pro or a con depending on what the people are posting and whether it is useful to people in the community.
Block Avenue uses a rating system that is based on how much information has been posted about an area. "A" areas often have more users posting in it, so more information about crimes, businesses and transit compared with "B" or "C" areas. It sells itself as an aggregator for neighborhoods.
Pros: The map search feature is pretty accurate and it will find your area by address, cross street, or simply by inputting the name of the town or city.
Cons: This is not a very user-friendly site. It is a bit difficult to navigate and is not that fun to use. It also seems to rely solely on user input so the information is all over the place and may not be useful for most users.
Parkbench is the only neighborhood site currently available in Canada. It's based in Toronto, and only serves Toronto right now. They do have plans for quick expansion, and seems to be the most comprehensive and useful neighbourhood site.
Pros: People can browse through any of the neighbourhood websites that are launched and users are not restricted to any content.
They work with real estate agents and have listings for all the local small businesses and real estate listings in the various neighborhoods. Businesses are also able to offer coupons and deals to users…for free! They don't charge local small businesses for this marketing and advertising, which is why they have thousands of offers in just one city.
Users can post reviews about businesses and they can use the message boards on the site to talk to each other about key issues, make groups, and share neighborhood stuff.
Cons: This site is still only available in Toronto. They are growing quickly and have plans to target other markets soon and branch out in the U.S. as well as other parts of Canada.