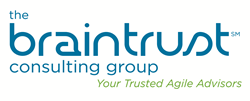 "Braintrust did an amazing job keeping the class entertaining and incorporated real life issues a product owner could face with Scrum. I had a great time and excited to share what I've learned with my team." — Rachel
Birmingham, AL (PRWEB) April 03, 2014
The Braintrust Consulting Group will offer a Certified Scrum Developer (CSD)-Track Two training class in Des Moines, Iowa at the Hampton Inn & Suites- Ankeny, the week of April 28-May 2, 2014.
The Braintrust Consulting Group has bundled a series of classes into a complete week-long certification track to earn Scrum Developer certification, as outlined by The Scrum Alliance. The Certified Scrum Developer Track Two class combines our Scrum Essentials class, Agile Engineering Practices class, and Test Driven Development class into an in-depth five-day training.
Scrum is a simple yet incredibly powerful set of principles and practices that help teams deliver products in short cycles, enabling fast feedback, continual improvement, and rapid adaptation to change. As the leading Agile development framework, Scrum has predominantly been used for software development, but it is also proving to be effective in efforts far beyond.
This class is ideal for someone who has an understanding of Scrum principles and has learned specialized Agile engineering skills. The CSD Track Two is intended for professional software developers who are on a Scrum team and want to understand how Scrum and agile engineering practices are applied. It's also ideal for candidates who already have their Certified ScrumMaster (CSM) certification or developers who are interested in move advanced Test Driven Development (TDD) techniques.
Members of the Project Management Institute will earn 35 Professional Development Units (PDUs) toward maintaining their existing credentials by attending this class. For additional details about the Certified Scrum Developer class, please visit: http://braintrustgroup.com/class/certified-scrum-developer-csd-track-two-des-moines-ia-28-2-april-may-2014/.
The Braintrust Consulting Group chose Iowa because of the state's reputation as one of the best places for business and careers, according to Forbes Magazine. Braintrust President, Brian Rabon said, "Our decision to host classes in Iowa was based on Des Moines' commitment to the growth of technology-based companies. Through the efforts of the Technology Association of Iowa, Des Moines boasts a strong and talented ecosystem of technology professionals. We are proud to participate in their technology industry by bringing our world-class training to Des Moines."
John Miller and Erick Fleming will instruct these courses. Miller is an IT professional with over 15 years of industry experience. He is a Certified Scrum Professional (CSP) from the Scrum Alliance, a Project Management Professional (PMP) from the Project Management Institute, ITIL Foundations Certified, State Government Certified Project Manager from the Government, Information Technology agency (GITA), and a Certified Support Center Director from the Help Desk Institute. He is also a frequent presenter at technology conference and was a speaker at Scrum Alliance Global Gathering in Atlanta. As an Agile Trainer and Braintrust Coach, Miller blends people process, tools, and training into one seamless formula in order to help clients break through roadblocks, improve processes, meet deadlines, and exceed goals.
Erick Fleming, CSM, JCD, MCT, MSCD is a certified .NET and Java Developer with over 17 years of programming and training experience. Fleming holds a Bachelor's Degree in Management Information Systems from the University of South Florida. He has spent most of his career training and consulting with organizations on technologies ranging from .NET and Java to Linux and other open source tools, and specializes in cloud-based web solutions.
To sign up and learn more about the Agile approach to training and additional upcoming classes, please visit: http://braintrustgroup.com/classes/upcoming/.
###
About The Braintrust Consulting Group
With offices in Birmingham, Alabama, Los Angeles, California, and Salt Lake City, Utah. The Braintrust Consulting Group is a worldwide leader in Agile transformations. Through practical, hands-on training and enterprise and team coaching, we help our clients learn, plan, and implement Agile processes, such as Scrum and Kanban. Our goal is to teach our clients how to increase predictability of delivery, decrease time-to-market, and improve overall client satisfaction. http://www.braintrustgroup.com