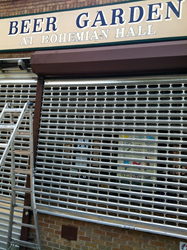 The best protection with a new look. Rolling Gate NYC Company provides the best rolling gate products and services. Whether you require a new installation or want repairs done, licensed and insured Rolling Gates NYC is here for you.
(PRWEB) April 09, 2014
For decades metal roll down gates have provided security for store fronts and business owners. Metal roll down gates have always offered an added degree in security by creating an extra layer of defense against unwanted criminal activity. Rolling Gate NYC, a leading seller, repair servicer and installer of rolling gates of many types and styles is also active in installing, repairing and maintaining grille gates. Rolling Gate NYC's staff of licensed technicians knows that some business and store fronts are made more secure with grille gates. With more grille gates being installed is the grille gate the new rolling gate? For your business, it just may be.
Reasons for considering a grille gate for your business' protection are:
1. Like other gates, they offer an extra layer of defense against would-be criminal activity. Burglars notice the gates right away and know that your establishment is protected.
2. Grille gates can't be effectively tagged with graffiti, which gives neighborhoods a bad reputation and deters customers from shopping.
3. There is no easy or quick way through a grille gate that will not call a lot of attention to the act alerting bystanders, customers, owners, employees and police.
4. Unlike other metal rolling gates, they do not occlude the view of merchandise displayed inside allowing the business to advertise to passers-by and window shoppers after hours and gain sales the following days.
5. Grille gates allow security personnel to see what is taking place inside your establishment increasing the chances that criminals will be caught before they can get away with any goods.
6. Grille gates allow for extra light during daylight hours decreasing the need for electric lighting and lowering utility bills.
7. Grille gates increase air flow which provides greater ventilation and air flow for customer comfort.
Rolling Gate Repair NYC performs maintenance and repairs on rolling gates, grille gates and commercial doors. Their staff of technicians helps customers with their security decisions by asking and answering in depth questions as to what their businesses want and need. Rolling Gate Repair NYC technicians recommend a grille gate that locks on the bottom and sides to prevent movement, utilizes a bottom bar for secure fastening and is made from aluminum or stainless steel.
Expert technicians at Rolling Gate NYC offer custom measuring and installing of grille gates. This adds greater security as the gate will fit the business better and lesson any weaknesses in attaching the gate to the business' frame.
To learn more about installing, caring for or purchasing a grille gate contact Rolling Gates NYC. You may also schedule an appointment with a technician. Visit Rolling Gates NYC web site at Rolling Gate NYC.