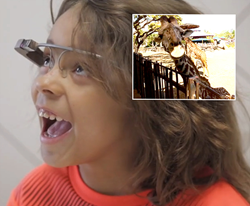 We're thrilled to be able to leverage Google Glass to bring a virtual escape and some much needed happiness and distraction to our youngest patients during their stay with us. -- Susie Distefano, CEO of Children's Memorial Hermann Hospital
Houston, Texas (PRWEB) April 03, 2014
Children's Memorial Hermann Hospital, together with the help of the Google Glass Explorer program, is enhancing the patient experience in a way never before possible. The hospital recently allowed kids of all ages to virtually "visit" the Houston Zoo, located across the street from the hospital, without ever leaving their hospital beds. For an exclusive look at these amazing, high-tech patient-animal interactions, please view our Google Glass Explorer video.
Patients at Children's Memorial Hermann Hospital were among the first in the nation to participate in the highly exclusive Google Explorer program. This groundbreaking new piece of "wearable" technology allows users to easily take videos and pictures from a direct point of view and take part in video calls via Google Hangout, all in a hands-free, voice command experience. Google Glass is not yet available on the market; an upgraded consumer version is rumored to be released later this year.
"We are thrilled to be able to leverage this exciting new piece of equipment to bring a virtual escape and some much needed happiness and distraction to our youngest patients during their stay with us," said Susie Distefano, CEO of Children's Memorial Hermann Hospital. "This unique opportunity to team up with the Houston Zoo, using state-of-the-art technology to literally bring their animals to our bedsides, has placed smiles on countless faces."
Through a Google+ Hangout, hospital patients connected via video chat with the Houston Zoo's own Google Explorer program. Children's Memorial Hermann Hospital is the first children's hospital in Texas to obtain Google Glass and this is the first project of its kind in the United States – a "double glass hangout" – with two Explorer programs joining together for a one-of-a-kind experience. Last year, the Houston Zoo was one of 8,000 contest winners to receive one of the much-hyped wearable computers and was the first in Houston to become members of the Google Explorer program.
"Since we received this new piece of technology, we've been able to offer the public a never-before-seen look at the Houston Zoo and what it's like to work here," said Ryan Draper, Interactive Marketing Coordinator for the Houston Zoo. "When Children's Memorial Hermann Hospital approached us with this exclusive partnership invitation, we knew it was a perfect fit. With the help of Google Glass, we can personally escort their pediatric patients behind the scenes to experience what it's like to meet the meerkats or visit the jaguars, from the animal keeper's point of view. What an awesome opportunity to light up a child's day."
Six-year-old Jayden Neal was diagnosed with type 1 diabetes about a year ago and, since then, has been a regular patient of Children's Memorial Hermann Hospital. "Because of Jayden's condition, we come to the hospital often. This time he's here for low blood sugars," said Jayden's mom, Raquel Neal. "On our way to the hospital the other day, we drove by the Zoo and Jayden said, 'Mommy, I just want to go to the Zoo!' So, now that's all he's been talking about: getting to go to the Zoo after all!"
Another patient, 11-year-old Trevor Lipinski, was able to link directly with Jonah the sea lion, for an up-close-and-personal experience with one of the Zoo's most popular mammals. Sea lion supervisor Brett Posey was able to create an intimate interaction for Trevor with Jonah, even answering some of Trevor's questions while demonstrating just how special the animals really are.
Going forward, Memorial Hermann plans to continue in the Google Explorer program and identify additional opportunities for applications; the options are endless. For example, a new study released just this week indicates that Google Glass may help calm patients during surgery.
"This first at Memorial Hermann sets the stage for the future use of Google Glass in other areas of medicine and patient care," said David Bradshaw, Chief Information Officer at Memorial Hermann. "This time, we enhanced the patient experience by offering our patients a unique opportunity to 'leave' the hospital while still receiving quality care at their bedside. As a next step, we want to explore the technology in clinical and care delivery settings."
Memorial Hermann is no stranger to breaking technological boundaries. The health system has made international headlines for its live-tweeting of major operations, including an open-heart surgery, a brain operation, and the world's first live-tweeted Caesarean section. This venture is the third public Google Hangout project from the system following an interactive chat on concussions and another on women's cancer health topics.
###
About Children's Memorial Hermann Hospital
Part of the 12-hospital Memorial Hermann Health System, Children's Memorial Hermann Hospital is a 278-bed hospital dedicated to pediatric and neonatal care with an additional 68 beds dedicated to women's services. The hospital's special compassion and healing expertise has distinguished it as one of the finest children's hospitals in the nation. In partnership with the University of Texas Health Science Center at Houston Medical School, Children's Memorial Hermann specialists provide care for more than 120,000 patient visits annually, including the tiniest premature infants, children and adolescents. Memorial Hermann takes a holistic approach to healthcare, offering programs and services that address the physical, social, psychological and spiritual aspects of well-being. An integrated health system, Memorial Hermann is known for world-class clinical expertise, patient-centered care, leading-edge technology and innovation. The system, with its exceptional medical staff and 22,000 employees, serves southeast Texas and the greater Houston community. Learn more about Children's Memorial Hermann Hospital.
About the Houston Zoo
The Houston Zoo is made up of many moving parts. We have over 6,000 permanent residents (our animals) for whom we provide housing, meals, medical care and, yes, even education. There are more than 2 million guests each year who come to experience our incredible variety of animals and ecosystems, as well as attend special private and public events and entertainment. Our dedicated staff works around the clock to ensure that the Zoo is always running smoothly for the safety and wellbeing of our residents and guests. Learn more about the Houston Zoo.