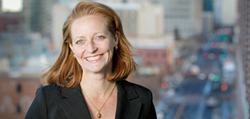 We are proud to have Morgan on our team," said firm co-founder, Kyle Bachus. "This just demonstrates that she fights hard for what she believes in – whether it's for a client of the firm, or for the citizens of Colorado in her role as Senate president.
Denver, CO (PRWEB) April 03, 2014
Morgan Caroll, a Bachus & Schanker attorney specializing in personal injury, workers' compensation, Social Security disability and employment law, and president of the Colorado State Senate, has been named to the prestigious list of the 50 most powerful people in Colorado, published periodically by 5280 Magazine.
The magazine's editorial staff selects individuals based on their power and influence in the community, confirmed through independent research and interviews. Carroll ranked fourth behind Denver Broncos General Manager and Executive Vice President John Elway, Gov. John Hickenlooper and Denver Mayor Michael Hancock.
Carroll has experience in state, federal, administrative and appellate courts, and is a member of the Colorado Trial Lawyers Association and the Plaintiff Employment Lawyers Association. She also is a graduate of the Gerry Spence Trial Lawyers' College. Her passion is social justice, and in both her capacity as a legislator and as an attorney, she is committed to leveling the playing field for ordinary people. Carroll is a second-generation Colorado native and has served in the Colorado legislature since 2005.
About Bachus & Schanker, LLC
Bachus & Schanker, LLC is a nationally recognized Denver personal injury law firm with additional offices in Colorado Springs and Fort Collins, Colo. In addition to personal injury law, Bachus & Schanker specializes in workers' compensation, employment law, medical malpractice, wrongful death, insurance disputes, nursing home neglect/abuse, national defective product and medical device litigation and Social Security disability insurance.
With a staff of more than 70 people, including 20 trial lawyers, Bachus & Schanker has represented thousands of clients across the country. Bachus & Schanker is committed to protecting and enforcing the rights of people injured by the negligence of others, offering to each client a level of representation and personal attention usually reserved for only the most powerful corporations. The firm supports local nonprofits through its Bachus & Schanker Cares Foundation. Visit Bachus & Schanker at http://www.coloradolaw.net/ to learn more.
# # #