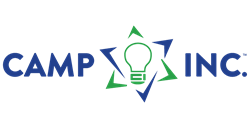 'At Camp Inc., we inspire entrepreneurship in teens, and give our campers the skills and tools needed to follow their dreams and turn an idea into reality,' said Camp Inc. Director Josh Pierce.
Boulder, CO (PRWEB) April 03, 2014
Camp Inc., a newly-launched entrepreneurship camp for Jewish seventh to 12th graders, is giving young, budding business owners the opportunity to trade their bright ideas for free tuition this summer. The camp, which runs from June 22 – Aug. 6, 2014, is offering a free session to the three best product or service ideas submitted by potential campers. Applications for the contest must be submitted by May 1.
"At Camp Inc., we inspire entrepreneurship in teens, and give our campers the skills and tools needed to follow their dreams and turn an idea into reality," said Camp Inc. Director Josh Pierce.
Located in the mountains above Boulder, Camp Inc., is a unique Jewish overnight summer camp where participants develop community, confidence, leadership and Jewish identity through hands-on business and entrepreneurial experiences. Campers will work together to launch a product or service using the skills and tools learned through daily team challenges, interactions with guest entrepreneurs, tours of local businesses and weekly, "Shark Tank" style competitions.
Students interested in joining the Bright Idea competition will need to provide a detailed description of the product or service they want to launch, how it will work, why it's needed and who would buy it. Applicants not selected for a free session will receive a $250 discount. Camp prices range from $2,200 to $3,900 depending on the age of the participant. Scholarships are also available for families in need.
Camp Inc. is divided into sessions based on age, with seventh and eighth graders attending for two weeks at a time and ninth, 10th, 11th and 12th graders participating in three-week sessions. The program for seventh and eighth graders teaches campers about such business fundamentals as idea creation, branding and presenting. Older campers learn such high-level business skills as website design and financial management and start their own foundation, which will provide real grant money to local non-profits.
Although geared toward business, the camp is not limited to aspiring entrepreneurs. Campers will learn leadership skills such as team building, cooperation, articulating and achieving a vision, and thinking outside the box, all of which can be applied to any future endeavors.
In addition to gaining business insight, campers will spend their days hiking, climbing, swimming, playing sports on a beautiful, 135-acre site located 35 minutes from the entrepreneurial hub of Boulder.
"Camp Inc. is going to be the first camp of its kind — educating campers about business, entrepreneurship and philanthropy in a ridiculously fun overnight camp experience," said Scott Peppet, President of Camp Inc.'s Advisory Board. "It's also going to be the first camp to connect entrepreneurship to Jewish values and to celebrate the spirit of entrepreneurship in the Jewish community."
A program of the Boulder JCC, Camp Inc. was one of four specialty camps selected for funding by the Foundation for Jewish Camp. In September 2012, the camp was chosen to be part of the foundation's specialty camp incubator program, designed to engage a new, underserved generation of Jewish campers.
The Specialty Camp Incubator II, which considered 39 applications before selecting four, is part of an $8.6 million grant jointly funded by the Jim Joseph Foundation and AVI CHAI Foundation.
About the Boulder JCC:
Widely recognized as a leader in innovation and engagement, the Boulder JCC's mission is to provide programs and services based in Jewish values and traditions in a place where people of all ages and backgrounds gather to connect, exchange ideas, learn and grow together. The Boulder JCC is in the final stages of a capital campaign to build a new campus for Jewish life on a 10-acre site at Arapahoe Ave. and Cherryvale Road. The BJCC has already raised $17 million of its $18 million goal, making it the largest Jewish capital project in Colorado history.
For more information about Camp Inc., visit http://www.CampInc.com or call 303-998-1900, ext. 117. To enter the contest visit http://www.CampInc.com/BrightIdea.