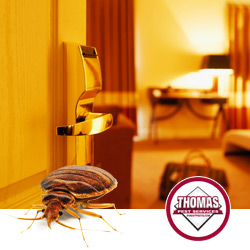 Bed bugs are one of the most difficult pests to treat.
Albany, NY (PRWEB) April 03, 2014
Thomas Pest Services, serving the Albany and Adirondack Regions, releases the following statement regarding the control and treatment of bed bugs. "Bed bugs are one of the most difficult pests to treat. There are a variety of different methods that pest control professionals are administering to help get rid of bed bugs," says Sarah Thomas-Clark, Vice President of Thomas Pest Services, "but we have found that bed bug heat treatments are by far the most effective way to kill all stages of bed bugs."
It is safe to say that of all the invasive pests that make their way into homes and businesses, bed bugs are perhaps the most difficult to treat without professional help. They can show up at any time and almost anywhere there are people. The bed bug is nocturnal, becoming active at night or in the dark. Their tiny size also makes it easy for them to hide during the day. Bed bugs will burrow into the carpet, hide behind baseboards and window and door trim, under mattresses and bed clothing and behind light switches and receptacle covers.
In Albany, bed bug control has always been an issue with many business owners and homeowners. In fact, the control of bed bugs should not be a "do it yourself" type of treatment. The bed bug can survive without a blood meal for up to a year and about the time you think you have gotten rid of them, they suddenly surface again. On a professional level, there are various traditional methods of treatment. Canine scent detection is often used to find bed bugs and there are several bed bug control solutions available for your home and business.
Thomas Pest Services has found that bed bug heat treatments are the most effective way to kill bed bugs. Dry steam heat is used and once the temperature reaches 120 degrees Fahrenheit or higher, the heat is lethal to bed bugs no matter what stage of development they are in. This heat treatment method is environmentally friendly and highly effective. It is often in just one heat treatment that 100% of bed bugs are gone. This is a great option especially for businesses that cannot afford the downtime. The choice of which treatment to use often varies by the level of infestation and the particular environment. Bed bug heat treatments are not always the only choice of treatment and occasionally both conventional and heat treatments are used together in order to eradicate a severe bed bug infestation.
Additionally, Thomas Pest Services offers free education sessions for organizations teaching them travel tips and about the basics of bed bug prevention, detection and management tools. For more information on their bed bug services, visit 518gotpests.com.
About Thomas Pest Services
Thomas Pest Services provides effective pest control to homes and businesses throughout the Capital District as well as throughout the Adirondack region. In addition to treatments to get rid of current infestations, they offer solutions to prevent other pests like ants, termites, rodents and nuisance wildlife before they have a chance to cause problems for NY homes and businesses. Visit http://www.518gotpests.com for more information.