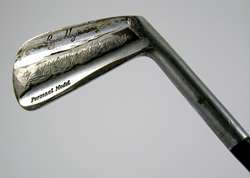 Offered here is the most significant set of irons to every grace our auction block - or quite possibly, any auction block.
Tampa, FL (PRWEB) April 03, 2014
Ben Hogan's iconic golf swing has long been marveled by both casual and professional golfers. Now, for the first time ever, golfers will have the opportunity to own the very clubs that Ben Hogan used during his magical 1953 Season – when Hogan won all five official events he entered, including the Masters Tournament, U.S. Open and British Open. The irons are expected to fetch upwards of $100,000 at auction.
The set up for auction is one of only three Ben Hogan "Personal Model" MacGregor iron sets known to exist, and the only set in private hands. Those two other sets are owned by the USGA Museum and Merion Golf Club - the site of Hogan's 1950 U.S. Open victory.
Ben Hogan famously formed his own golf equipment company, the Ben Hogan Golf Company, in late 1953. At that time, he ceased using MacGregor golf clubs and never won another Major Championship. Therefore, original MacGregor Ben Hogan "Personal Model" clubs from the prime of Hogan's career are coveted by golf collectors, but very few have ever been found.
Included in the auction are seven Ben Hogan "Personal Model" irons from 1953, 3 iron through 9 iron. "The Hawk" was a famous tinkerer of his clubs, and the offered irons exhibit a tremendous amount of use and custom clubwork.
Ben Hogan's 1953 irons are being offered for auction by former PGA Tour and Champions Tour player Jimmy Powell. They have been Powell's most cherished possession for well over 35 years, and originally were given by Hogan to his best friend, former golf pro Dennis Lavender.
Ben Hogan's 1953 irons are currently up for auction at http://www.GreenJacketAuctions.com.
About the Auction
Green Jacket Auctions' Spring Golf Auction is currently open for bidding and will conclude on Saturday, April 12, 2014. The auction features over 800 lots of rare golf memorabilia.
Other auction highlights:
Original 1932 Augusta National Stock Certificate – Estimate: $10,000+
Original Program from Inaugural Masters Tournament in 1934 – Estimate: $10,000+
Tiger Woods' Scotty Cameron Putter – Estimate: $20,000+
About Green Jacket Auctions, Inc.
Green Jacket Auctions, with offices in Tampa, FL and Denville, NJ, is the largest online golf antiques and memorabilia auction house in the world. It hosts quarterly auctions of rare golf memorabilia, which are participated in by collectors and institutions in over 50 countries.