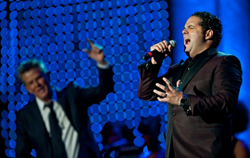 Orlando, FL (PRWEB) April 02, 2014
World-renowned tenor and "America's Got Talent" finalist Fernando Varela has announced his partnership with the global child-focused development organization ChildFund International starting this month. Central Florida-based Varela will serve as an ambassador and sponsor for the organization and a featured ChildFund LIVE! Artist. In this role he will be spreading the word about ChildFund's mission to help children and families in need have the capacity to improve their lives and gain the opportunity to become educated and independent young leaders who bring lasting and positive change to their communities.
ChildFund International provides support for education, early child development, nutrition, clean water and health care in communities in 30 countries, working with families, local officials and organizations to give children a stronger chance to grow up healthy, safe and happy. Sponsor-and-child relationships, which often last for years and develop into friendships through letters, are a significant part of ChildFund's support system. Ambassadors like Varela, who supports young musicians in Florida through his foundation, play an important role in bringing attention to sponsorship and other ways we can help children living in poverty.
"I am very excited about supporting and partnering up with ChildFund and becoming one of their featured LIVE! Artists," states Varela. "After having so many people support me when I was younger, now I want to give back and aid in the change that ChildFund can provide to children. Family is very important to me and my wife and our children, and through my passion for music I hope to help make a positive difference in many children's lives for many years to come."
Coming off his amazing climb on NBC's #1 summer show "America's Got Talent" last year, Varela has kept a red hot pace over the past year highlighted by debut performances with the National Symphony Orchestra at The Kennedy Center for the Performing Arts in Washington, D.C., Carnegie Hall and Radio City Music Hall in New York City and singing for President Barack Obama at The White House. Varela has drawn critical acclaim while touring the world both on his own and with music legend David Foster. Over the course of his career, he has performed in over 16 fully staged operas, hundreds of concerts and in 31 countries around the world. In 2008, Varela recorded his first album Dare to Live, followed by the release of two studio albums, Prelude and Inspiration in 2012. He is currently working on a new album which will feature mostly original music and preparing to embark upon an international solo tour in the Fall of 2014.
For more information on ChildFund International and ChildFund LIVE! Artists, visit http://www.childfund.org, and for more information on Fernando Varela, visit http://www.fernandovarela.com.
Media Contact: Ilene Lieber, 321-277-7812, ilene(at)passionprconsulting(dot)com