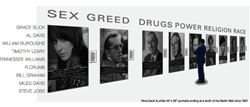 An exciting visual and mental discourse, SYMPHONY FOR THE DEVIL is a controversial expose of todays mainstream media featuring the writing of Charlie Newton, photography by Baron Wolman, and design by Bob Bucciarelli.
Los Angeles, California (PRWEB) April 02, 2014
Symphony for the Devil presents a collaborative artistic theory that challenges the viewer to consider that dialogue and ideas have been silenced. Occasionally people had a chance, a voice − and it was heard. Some have dared to speak, dared to ask, dared to imagine another way. They were, and are, threatened, charged, and gagged. By asking the question "Why?" author Charlie Newton expresses the opinion that they were and are considered to be the "Devil."
Newton believes that the brave and outspoken have been – ironically labeled – "The Devil," or Lucifer. Lucifer, who is defined as the bringer of light − seems to be a very appropriate moniker. The "Devils" such as Al Davis, Steve Jobs, Timothy Leary are just a few of the individuals featured in the exhibit whose politically incorrect messages have become the score for – "Symphony for the Devil" - words that become music to our ears.
The highly regarded novelist, Charlie Newton, conceptualized this thought provoking exhibit. Newton states, "Symphony for the Devil" is a confrontation with 'bobble head love,' and the talking points that we-the-well-governed-and-informed willingly accept as dialogue on sex, race, drugs, power, greed and religion: Burn the books, burn the witches, touch your TV, and you be healed. Drink the Kool-Aid."
The collaborative explores the idea that for decades many have favored obedience and subjection to authority to dialogue. There was a time when writers, photographers, reporters and citizens truly dared to speak out and challenge the fairy-tail status quo. Wolman states: "A picture is worth a thousand words – but only if they are the words of truth!"
"Symphony for the Devil" intends to revive real conversation while setting aside veiled authoritarian principles and attitudes pertaining to political systems - and encourages one to find a current trend in which individual freedom is barely respected by authorities not constitutionally accountable to the people.
This multi-sensory exhibit stimulates an almost instantaneous dialogue on sex, race, drugs, power, greed and religion. "Symphony for the Devil" features Charlie Newton's Epigraphs, Baron Wolman's Photographs and Robert Bucciarelli's Design, Construction & Calligraphy.
Sections of Baron Wolman's stunning iconic photographs are torn out and replaced by the epigraphs based on author Charlie Newton's handwriting. Designer Bob Bucciarelli uses a "brush" made from broken toothpicks to produce an inscription creatively relative to the concept. The photograph is sutured back together with wire to reveal Newton's epigraph inside the image, thus creating a Frankenstein effect.
MOPLA (Month of Photography Los Angeles) was established to advance the celebration of Photography through a variety of events and programs designed to inspire and invigorate the photography professional, enthusiast, emerging professional and collector. Official exhibitions and discussions are commissioned, procured and produced by The Lucie Foundation and Month of Photography Los Angeles.
The exhibition will also be on display in Santa Fe, New Mexico at Kristin Johnson Fine Art on Friday, October 31, 2014.