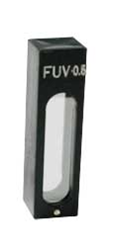 Farmingdale, NY (PRWEB) April 04, 2014
NSG Precision Cells has been a world leader in cuvette and flow cell manufacturing. In 2010, NSG expanded their manufacturing capabilities and began making a spectrophotometer calibration standard that would make history. This UV-VIS filter, NSG's FUV-0.5, offered researchers the ability to scan any wavelength from 200-700nm for photometric accuracy.
The FUV-0.5 calibration standard has been NSG's best-selling photometric filter. Now the FUV-0.5 filter could check both photometric accuracy and stray light. The problem was that for stray light calibration, the FUV-0.5 needed an additional photometric filter. In other words, people needed at least 2 filters to perform a stray light calibration.
In 2014, NSG has taken the FUV filter line to a completely new level. With advances in their patented Nano-Depositioned technology, NSG has released FUV filters that can perform both photometric and stray light accuracy. What this means for scientists is that they can purchase one calibration standard and check for both stray light and photometric accuracy in the UV and VIS range.
No other company in the world can offer such a valuable dual-purpose calibration standard. Sure, a scientist can find a metal-on-quartz filter to check UV and VIS photometric accuracy, but that same scientist will have to buy additional standards, that cost thousands of dollars to check stray light. NSG has eliminated the need to buy multiple filters for stray light checks.
How does this new FUV filter calibrate for photometric accuracy and stray light? NSG coats the front of the FUV filters with a special Nano-Depositioned layer that allows the standard to never require re-calibration. Now on the backside of the glass, NSG applies another layer of coating that has the stray light parameters built into it.
Using the new dual-purpose FUV filters is very easy. First, the researcher inserts the FUV filter into the spectrophotometer scanning through the front of the standard for photometric accuracy. Next the researcher takes the standard out, rotates it 180 degrees and scans the back of the calibration standard for a stray light measurement. The stray light value is calculated by subtracting the photometric accuracy from the stray light value.
This new calibration standard is calibrated in an ISO 17025 accredited lab. Also, this spectrophotomer standard is fully NIST compliant and comes with NSG's Lifetime Warranty ensuring peace of mind for their customers. If an NSG certified calibration standard ever falls out of calibration, NSG will replace the filter free of charge, for life.
When looking for the best calibration standards, scientists know that you cannot beat NSG Precision Cells pricing, quality, and customer service. Scientists can log onto http://www.precisioncells.com and buy the new FUV standards directly from their website.