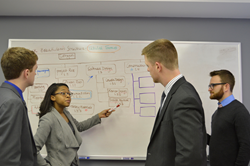 Washington, DC (PRWEB) April 04, 2014
M Powered Strategies, a Washington, DC-based consulting firm, announces the launch of Consulting Boot Camp on April 21, 2014. Consulting Boot Camp trains participants in the skills and consulting industry best practices they need to gain success in consulting. Additional Consulting Boot Camp sessions will be offered monthly throughout the year.
Attendees will participate in two courses per day on topics that address organizational issues and challenges that executives and top-level professionals face on a daily basis. Participants can take the full 20-course curriculum in two consecutive weeks or register for one week (10 courses) at a time.
Course topics include the following:

Project & Program Management
Emotional Quotient (EQ-i®)
Meeting Management and Facilitation
Strategic Planning
Myers-Briggs Type Indicator® (MBTI)
Organizational Design
The Boot Camp suite of interactive courses, taken from MPS' ANSI-accredited Professional Readiness and Effectiveness Program (PREP), will provide a general survey of knowledge, skills, and capabilities that professionals and transitioning students can put to use in their current and future careers. For more information and to register, please visit M Powered Strategies' Consulting Boot Camp website http://www.mpoweredstrategies.com/consulting-boot-camp.htm.
About M Powered Strategies, Inc.: Founded in 2002, M Powered Strategies (http://www.mpoweredstrategies.com) is a Washington, DC-based consulting firm providing management support to Senior Executive leaders and their staff in cabinet-level agencies of the U.S. Federal Government. Our agile, highly collaborative team enables our clients to realize organizational effectiveness through the use of collaboration development, program development, organizational development, and professional development offerings.
About ANSI: The American National Standards Institute (ANSI) is a private non-profit organization that oversees the development of voluntary consensus standards for products, services, processes, systems, and personnel in the United States. As the official U.S. representative to the International Organization for Standardization (ISO), ANSI accreditation is recognized internationally as a mark of quality and program excellence.
To learn more about this opportunity, please contact:
Christopher Ashcraft, Media Relations
1616 H Street NW, Suite 1010, Washington DC 20006
Mobile: (917) 755-8085
Fax: (202) 628-3117
christopher(at)ashcraft(at)mpoweredstrategies(dot)com