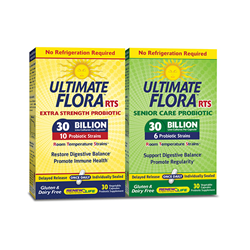 We have been getting requests for higher-potency RTS probiotics. The introduction of these two formulas with 30 billion live probiotic cultures per capsule answers that need.
Clearwater, FL (PRWEB) April 04, 2014
No-Refrigeration-Required Probiotics
"Due to the popularity of our original Ultimate Flora™ RTS line that features 15 billion probiotic cultures per capsule—and the recent growth of the probiotic market—we have been getting requests for probiotics with an even higher potency that do not require refrigeration. With the introduction of these two new multi-strain, Ultimate Flora RTS formulas with 30 billion live cultures per capsule, we are answering the needs of our consumers," stated ReNew Life President and Founder, Brenda Watson.
Enjoy the Convenience of Two New Ultimate Flora RTS Probiotics
Both Ultimate Flora RTS Extra Strength and Ultimate Flora RTS Senior Care provide 30 billion live probiotic cultures per capsule and up to 10 probiotic strains. A once-daily, delayed-release vegetable capsule shields the probiotics from harsh stomach acid so that they reach the intestines, where they will have the most benefit. Both dairy and gluten free, the probiotics are travel-ready in handy, on-the-go, double-foil blister packs that protect the probiotics from moisture, oxygen and light, prolonging potency at room temperature. They also feature a 100% potency guarantee until expiration (not just at time of manufacture, like some other brands).
Ultimate Flora™ RTS Extra Strength Probiotic contains 10 beneficial Bifido and Lacto probiotic strains to help restore digestive balance and promote immune health. Because we naturally have many different strains of probiotics in our intestinal tracts, more strains may help to optimize overall digestive health.
Ultimate Flora™ RTS Senior Care Probiotic contains 6 strains of Bifido probiotics to help restore digestive balance and promote regularity in seniors. As we age, our level of Bifidobacteria declines. Ultimate Flora Senior Care Probiotic contains 100% Bifido probiotics to help maintain a healthy colon environment. The large intestine, or colon, naturally has many different strains of Bifido probiotics, so more Bifido strains may be better for overall colon health in seniors.
ReNew Life's Ultimate Flora probiotic brand has received the 2014 ConsumerLab.com Survey Award as the Top-Rated Probiotic Product in Consumer Satisfaction. For more information see http://www.consumerlab.com/survey 2014.
ReNew Life Formulas was founded in 1997 by Brenda and Stan Watson and offers a full spectrum of award-winning, digestive-care supplements and functional foods. Each ReNew Life product is made from only the finest raw ingredients. The company's research, educational materials, customer service and superior manufacturing practices all set the benchmark for others in the industry. Above all, ReNew Life is dedicated to helping their customers achieve and maintain optimal health, increase energy and enhance mental clarity.
For additional information on new Ultimate Flora RTS Extra Care and Ultimate Flora RTS Senior Care from ReNew Life, please contact bcooper(at)renewlife(dot)com.