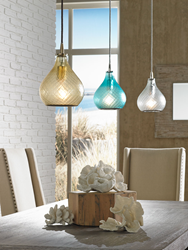 Jamie Young's superior design is the ideal fit for our offering of lighting and home furnishings.
Los Angeles, California (PRWEB) April 04, 2014
Leading national lighting retailer Lamps Plus will unveil new mini pendant lights by the Jamie Young Company at High Point Spring Market, Monday, April 7, 2014. Inspired by the materials, textures and colors the designer encountered during travels through India, the handcrafted Cloud mini pendant design comes in three frosted glass hues and features a curved, textured shade for a fresh, coastal spring look. They will be sold exclusively through Lamps Plus and LampsPlus.com for a limited time starting in mid-May.
"We're honored to be the exclusive retailer to debut this Jamie Young design," explains Dennis Swanson, CEO of Lamps Plus. "It's part of a continuing effort to highlight exceptional design and value by offering consumers exclusive products in partnership with our vendors."
"We are delighted that Lamps Plus selected us as their Spring Market Exclusive," says Jamie Young, founder of the Jamie Young Company. "We are a design-driven company that aims to make elegant and sophisticated design approachable for the consumer. Lamps Plus allows us to easily reach the consumer through both its showrooms and website."
Recipient of the vaunted ARTS Award in January 2014, the Jamie Young Company is a widely recognized leader in design. Swanson explains, "Every design we bring to our Lamps Plus showrooms is carefully selected for its quality, innovation and aesthetic. Jamie Young's superior design is the ideal fit for our offering of lighting and home furnishings."
The seven-inch-wide Cloud mini pendant light fixture retails for $250.00. The design features polished metal accents and is available in three frosted glass hues: aqua, taupe and clear. It joins a wide selection of Jamie Young Company designs available on LampsPlus.com that ranges from distinctive lighting and art shades to a full complement of tables, mirrors, ottomans and decor.
The Cloud mini pendant light will be unveiled during leading home furnishings trade show High Point Spring Market, at the Jamie Young booth from 4 to 6 p.m., April 7, 2014. The designer will be available to the media, and cocktails and hors d'oeuvres will be served.
About Jamie Young Company
Extraordinary vision, global influence and quality craftsmanship take Jamie Young designs from functional to artistic. Eclectic light fixtures, beautiful lamp shades and unique home décor accessories make an effortless statement in transitional and modern interiors. Table lamps, floor lamps and pendants offer couture customization with more than 50 fabric shade options. The eco-friendly Jamie Young Company commits to using recycled boxes and packaging materials.
About Lamps Plus
For more than 30 years, Lamps Plus has been synonymous with excellence in the retail lighting industry. Established in 1976, Lamps Plus is the nation's largest specialty lighting store, with more than 40 superstores throughout the western United States. In 2013, LampsPlus.com was named a Top 10 Housewares/Home Furnishings e-tailer and a "Hot 100" world's best retail website by Internet Retailer Magazine. Together with its retail locations, the company serves customers nationwide with the largest selection of functional and decorative lighting fixtures, accessories, furniture and home decor. This selection includes hundreds of products, ranging from traditional chandeliers to the latest in home decor, available exclusively from Lamps Plus. The company also holds several patents for innovative lighting. Services offered include in-home lighting consultations, in-store workshops and installation from expert, licensed electricians. American Lighting Association certified designers are available to offer product recommendations and advice in all our stores, by phone or online at LampsPlus.com. The Lamps Plus family of websites also includes 55 Downing Street, Builders Discount Lighting and Lamps Plus Open Box. Visit the official Lamps Plus website: LampsPlus.com.