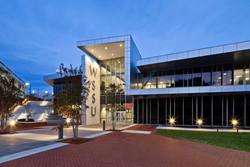 Sustainable design translates into substantial savings for the university - 48 percent water use and 37 percent energy use reductions – by reducing operational cost.
Winston-Salem, NC (PRWEB) April 03, 2014
The Green Building Certification Institute (GBCI) has certified the new Donald Julian Reaves Student Activities Center at Winston-Salem State University (WSSU) to be LEED Gold. GBCI recognizes excellence in green building practice and performance globally through its third-party certification services and professional credentials supporting market transformation.
The Project's design team consisted of Woopert Design as the architect of record, Moody Nolan, Inc. as the design architect; Sud Associates, PA, mechanical/electrical engineer; and Laurene, Rickher & Sorrell, structural engineer. The Construction Management team of Samet/SRS pulled all of the construction trades together to build the new Student Activities Center. The team worked closely with WSSU to achieve LEED Gold certification on the recently completed project at WSSU. The 95,781-square-foot facility connects (via a walkway) to WSSU's existing Thompson Student Center. Named for the university's current chancellor, Dr. Donald Julian Reaves, the new center is a combination of student union and recreational space. The three-story structural steel frame facility has metal panels, brick and glazed exterior, with long-span roof trusses and a suspended walking/jogging track. Amenities include a campus hall, two basketball courts within a multi-purpose gymnasium, a suspended walking/jogging track, fitness areas for weights and aerobic exercise, group exercise rooms, commuter and student lounges, meeting rooms, offices for Student Affairs and student organizations and a four-vendor food court with dining areas.
The new Donald Julian Reaves Student Activities Center readied itself for LEED certification at the outset with a focus on the quality of life for students by providing a new social heart of the campus, easily accessible on foot, bike or via transit. Sustainable design translates into substantial savings for the university - 48 percent water use and 37 percent energy use reductions – by reducing operational cost.
The civil and landscape design utilized a combination of permeable pavers and concrete to successfully infiltrate water and provide rainwater quality treatment on site. No new parking was added, as the Student Activities Center's location is one of its important sustainability features. The building provides much-needed student-oriented social and recreational needs. The building has entrances at all three levels and is transparent and welcoming. The aesthetically beautiful, modern building establishes itself as an activities center focal point at the campus, while complementing its surroundings.
The project achieved all but one LEED point in the water efficiency category, with a 48 percent reduction in potable water from a calculated baseline. This was accomplished through careful selection of low-flow plumbing fixtures (e.g., high-efficiency toilets, showerheads, etc.) to minimize the amount of water used, and through native/adapted landscaping that requires no irrigation. The building is also 37 percent more energy efficient than the code baseline, with an anticipated university utility cost saving of more than $90,000 per year. Demand-control ventilation systems were installed with sensors to detect room occupancy and provide ample fresh outdoor air as needed, improving energy efficiencies by initiating the heating, cooling and dehumidifying of outdoor air only when needed. The team employed an energy recovery wheel to harvest energy from the building's exhaust air and then transfer the thermal energy to the incoming air. Extensive daylight access and lighting control creates a bright, natural indoor environment with views to the out-of-doors for occupants, while also reducing energy used for lighting. Waste heat given off by the kitchen refrigeration systems is used to preheat hot water. As an additional energy-saving measure, variable frequency drives were installed on pumps and ventilation system fans, allowing them to modulate to match demand and not run at constant speeds.
Twenty-one percent of construction/building materials were extracted and manufactured within a 500-mile radius of the project's location, and careful sourcing achieved 21 percent recycled content as well. Seventy-five percent of the new wood in the building is certified by the Forest Stewardship Council (FSC) to assure sustainable forestry practices were followed. The design and construction team implemented significant measures to provide optimal indoor air quality and occupant control. The Student Activities Center was documented and designed in accordance with a set of thermal comfort parameters defined in the ASHRAE 55-2004 standard to optimize comfort and controllability, especially important in a building with such diverse uses as dining, meeting and fitness facilities. The construction team implemented a plan that promoted good indoor air quality. Low-emitting materials were used to minimize the off-gassing of volatile organic compounds (VOCs) or formaldehyde into the interior environment.