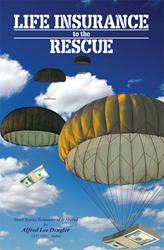 Alfred Dingler walks the reader through countless real life stories in which real people face unthinkable circumstances in their lives. These are priceless biographies. – Charles A. Smith, CLU, ChFC, AEP, Chartered Financial Consultant
Fayetteville, Georgia (PRWEB) April 03, 2014
Many say that death is the final frontier – the last major event experienced on this earth. Leaving loved ones behind is never an easy thought, but there is one thing that can help make the passing easier for families: life insurance. "Life Insurance to the Rescue" demonstrates how families who make life insurance part of their future plans end up better financially prepared than those who don't. In today's society, life insurance isn't merely an option; it's a necessity.
With more than 40,000 client consultations, author Alfred Dingler is an expert in the field of financial planning and knows how vital life insurance is to individuals and families. Preparing for the end is no easy task, but the circumstances of having a plan far outweigh the potentially dangerous repercussions of having no plan at all. Through a series of thirty stories learned through real-life lessons, "Life Insurance to the Rescue" aims to provide readers with proof that life insurance is a must-have. After witnessing countless situations from numerous clients, Dingler's mission is to ensure that people are thoroughly informed about life insurance and encourage individuals who don't have life insurance to take the step today.
The stories within "Life Insurance to the Rescue" aren't simply contrived to demonstrate why life insurance is important. Instead, they are real; the individuals could be friends, neighbors, or even the reader's own family. Alfred Dingler pulls from his decades of experience and provides accessible information for readers so that they can make the best decision of their lives.
About the Author
Alfred Dingler, CLU, ChFC, graduated from Georgia State University in 1985, where he ranked as one of the top insurance students. Later that year, Dingler pursued his passion of financial planning by founding his own company, Prime Insurance Agency Inc. Since then, Prime has expanded into a full financial center, serving thousands of families and business in the state of Georgia. Dingler has won multiple awards in the insurance industry, including the President's Award from Westfield Companies, Build a Better Georgia Award by Georgia Insurance Commissioner, and many more. "Life Insurance to the Rescue" is his first book.