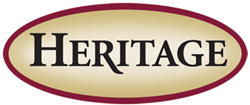 The results of the Coldwell Banker HPW Heritage sales team achieve are a direct result of their dedication and understanding of the exceptional lifestyle and amenities we offer home buyers. - Andy Ammons, Development Group
Wake Forest & Rolesville, NC (PRWEB) April 03, 2014
Following a record year of new home sales in 2013, The Coldwell Banker Howard Perry And Walston Builder Services team at the master-planned community of Heritage in Wake Forest and Rolesville, is recognized as one of the top performers in North Carolina and the Southern region. Among North Carolina Coldwell Banker divisions, the 2013 Heritage sales rank second in volume and fourth for units sold. In the Southern Region, Heritage sales rank third in volume and seventh for units sold.
The team and these accomplishments were honored with an Award of Excellence, at a ceremony last Sunday, March 23 at the Pavilion at Angus Barn in Raleigh, NC.
"The Coldwell Banker Howard Perry and Walston Builder Services team at Heritage has been an important key to our success," says Andy Ammons, president of Ammons Development Group, Heritage developer. "The results they achieve are a direct result of their dedication and understanding of the exceptional lifestyle and amenities we offer home buyers."
The team of four brokers who represent Heritage and its builders guild includes Cristi Thompson, Renee Drake, Kim Barnhart and Charlotte Marion. Each of the agents works with home buyers and real estate agents to find the right home in a variety of neighborhoods throughout the community. "With nearly 80 homes ready for move-in and many more in various stages of construction, our team must work with buyers to understand their needs and desires in order to help them find the perfect Heritage home," say Christy Beck, senior vice president, director of new homes for Coldwell Banker Howard Perry And Walston Builder Services. "The results of this team are proof that they are experts at building relationships, understanding the market and the needs of buyers."
For more information about life in the award-winning Heritage community, please visit http://www.HeritageWakeForest.com. Coldwell Banker Howard Perry & Walston Builder Services manages sales for the community.
ABOUT HERITAGE
Heritage is located near the historic downtown district of Wake Forest, NC and extends into the growing community of Rolesville, NC. This master-planned community is comprised of 37 individual neighborhoods and offers townhomes and single-family homes priced from the $160s to the $600s. Heritage offers a variety of recreational amenities including golf, tennis, two swim complexes, miles of walking and biking trails, greenways, playgrounds, soccer fields, an amphitheater and a fully stocked fishing pond.
This exceptional community has been named Master Planned Community of the Year, three times in its thirteen-year history by the Home Builder's Association and the golf course was given an outstanding 4-1/2 Star rating by Golf Digest Magazine. Heritage was also named Best of the Best Neighborhood and Golf Course by Wake Forest Weekly in 2011, 2012 and 2013. In 2014 the community was named Top Residential Development by the Triangle Business Journal and one of the Top 50 Masterplanned Communities in the. U.S. by John Burns Real Estate Consulting.
For more information on the community, please call 919-453-2000 or visit us online at http://www.HeritageWakeForest.com. Become a fan at Facebook.com/HeritageWakeForest. Sales by Coldwell Banker Howard Perry & Walston Builder Services. Marketing by Martin Communications.