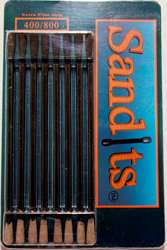 "The perfect tool for polishing, finishing and shaping hard-to-reach and exacting work."
Largo, Florida (PRWEB) April 04, 2014
SANDITS the easiest, simplest and most convenient way to reach small and hard to reach spaces to sand, shape, polish and remove rust and corrosion has added a 400/800 grit tool to its current 120/180 product line. This new 400 grit "very fine" on one end and 800 grit "extra fine" one the other end, is the ideal tool for finer polishing and finishing work on:

Jewelry
Automotive, motorcycle and bicycle paint and chrome
Fiberglass, teak and chrome found on boats
Fine-finishing on wood, plastics and metal
And any hard to reach or delicate place that needs polishing or finishing
"In a little over one year, thousands of people have discovered the versatility of SANDITS", said Paul Werlin, inventor of SANDITS and President of Orion Products. "They're being used on boats, motorcycles, wood-working projects, jewelry making, scrapbooking, electrical work and auto maintenance, just to name a few. Their low cost and unique shape make them ideal for every toolbox and workshop in America. This is why more than 150,000 have been sold in just 15 months. And now, with our new extra-fine 400/800 grit, craftspeople, woodworkers, hobbyists and do-it-your-selfer's can polish and finish their fine-work without scratching."
Orion Products will continue to expand the SANDITS line with additional shapes and sanding/polishing grits for a wider range of home and professional uses.
Extra-Fine SANDITS are currently available in packages of 8 with a suggested retail cost of $6.99 at their on-line store (plus shipping and handling). They are also available from several on-line stores and at select retail hardware and craft outlets.
##