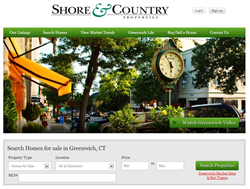 Riverside, CT (PRWEB) April 03, 2014
Shore & Country Properties continues to update customers on the 2014 Greenwich residential real estate market and how it has performed so far. To no one's surprise, January and February were greatly affected by the weather. In the past, weather like this has built a pent up demand in those price ranges and locations with low inventory. This is also the case for the start of 2014.
The educated buyers in the market do not have homes to purchase. As new listings come on the market or sellers of older inventory reduce the price of their property to reflect today's market value, the buyers are there to buy. What seems to holds true in this market is the idea that "until someone wants it, no one wants it."
The way to get people to want a property is to price it to the market given the property's location and condition. Those who do this will get more for their home than at any other time of the market in 2014. Given this information, Shore & Country Properties urges customers who are thinking about selling their property in 2014 to get it on the market now.
With low inventory levels, especially under $2 million, many would-be-buyers can't find the right property. This is where the rare opportunity for the Greenwich homeowner appears. Low supply coupled with high demand and a well-priced property gets the buyer close to or at their listing price. When this happens, multiple offers are the end result.
Sellers should take advantage of this window of opportunity during the next 30-60 days and get the best price for their homes in the past five years. Shore & Country Properties feels that if homeowners wait to list their property, they will have missed this rare market anomaly.
Given all these facts, Shore & Country Properties urges Greenwich sellers to get their property on the market now. A number of clients they have represented this year who listened and priced their properties properly have reaped the rewards of this market. Contact Shore & Country Properties today and let them help maximize the return on the largest investment many have ever made.
For more frequent updates about what is going on in the Greenwich real estate market, visit http://shoreandcountryproperties.com/.
About the company:
Shore & Country Properties was originally started by Russell Pruner in 1989 as Russell Pruner and Associates. His vision for a company comprised of the town's best full-time real estate professionals. Nancy Healy joined the company as a partner in 1996. Since starting her career in real estate in 1987, Healy has been one of the town's busiest and well-respected realtors. Recently, her peers voted her one of America's Most Preferred Realtors. The year 2000 brought the addition of two more partners, Joan Epand and Ken Yorke. Each added yet more talent to the group, from Epand's marketing expertise to Yorke's sharp accounting skills and operational abilities.
Both Pruner and Healy have served multiple times as president of the Greenwich Association of Realtors and the Multiple Listing Service and given their time to work on other committees. As a result, they have a unique understanding of what it takes to run a successful real estate firm. And by carefully selecting only agents who represent the best of Greenwich, Russell Pruner and Associates quickly grew to become the leading independent real estate firm, serving all 50 square miles of Greenwich and lower Fairfield County.
"We handpick respected agents who demonstrate the integrity, expertise and personal touch that clients deserve when buying or selling their most valuable assets."
In 2003, Russell Pruner and Associates became Shore & Country Properties to let consumers know they service every neighborhood from the back country to the shore line. For the past 13 years, Shore & Country Properties has been the no. 1 real estate company in Greenwich by selling their listings in the fewest number of days and with the highest original list price to sales price. They continue to lead the Greenwich market in transactions and dollar volume while providing unparalleled service to their clients. For more information, visit their website at http://shoreandcountryproperties.com/.