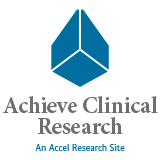 "Gout is a painful and potentially disabling form of arthritis that has been around since ancient times." - American College of Rheumatology
Birmingham, AL (PRWEB) April 15, 2014
*To see if you qualify for this Gout Clinical Trial in Birmingham, visit Achieve Clinical Research on the web (http://www.achieveclinical.com/) or contact us directly at (205) 380-6434. There is no cost to participate, no insurance is required, and you may receive compensation for time and travel.
STUDY DESIGN
This is a multi-center, randomized, double-blind, active and placebo-controlled study in gout patients with serum uric acid levels (sUA) greater than or equal to 7.5 mg/dL and less than or equal to 12 mg/dL who experienced at least three flares during the past 12 months and have not received treatment via any contemporary gout medications for at least two weeks prior to screening.
Because the occurrence of flares is the primary endpoint of this clinical study, qualified participants will not be allowed to take any medication for flare prophylaxis during the study period other than the supplied study drugs. Over the course of the treatment period (through Week 12), participants will receive one of two forms of the study medication as flare prophylaxis.
BACKGROUND & RATIONALE
This pharmaceutical company is pursuing the development of new form of gout medication for the prevention of flares and the chronic treatment of hyperuricemia in patients with gout. This new drug is an uricosuric agent with anti-inflammatory activity. It has two distinct mechanisms: first, it promotes excretion of uric acid by blocking its reabsorption by transporters/organic anion exchangers in the proximal tubule in the kidney; second, it exhibits anti-inflammatory activity by inhibiting monosodium urate (MSU) crystal induced NF-KB-dependent production of interleukin 1-beta (IL-1β), a predominant cytokine mediator in acute gouty arthritis. Thus, this experimental gout medication has the potential to reduce serum uric acid while decreasing the incidence, severity and duration of flares, including those that often occur upon initiation of urate lowering therapy (ULT).
This pharmaceutical company previously pursued development of this experimental drug as an oral glucose-lowering agent (insulin-sensitizer) for the treatment of type 2 diabetes. However, the target efficacy for hemoglobin A1c (HbA1c) lowering compared to the marketed insulin-sensitizers was not met, and further development for type 2 diabetes has been discontinued.
PRIMARY OBJECTIVES
The primary objective of this clinical trial is to evaluate the efficacy of two dose levels of this experimental gout medication taken once daily for the prevention of flares in adult gout patients.
INCLUSION CRITERIA
Patients must meet all of the following criteria to be eligible for study participation:

Male or female patients between 18 and 75 years of age, inclusive
Confirmed gout diagnosis (per criteria of the American Rheumatism Association for the classification of the acute arthritis of primary gout)
At least three patient-reported and documented flares during the 12 months prior to screening (the first of these flares may have resulted in the gout diagnosis; any recent flare must have resolved, with the patient back to usual comfort level at least seven days prior to screening)
Have not used any ULT since at least two weeks prior to screening
Have not used colchicine since at least two weeks prior to screening
Usual level of resting pain when NOT experiencing flare is three or less on an 11-point numerical rating scale (NRS)
Have a sUA greater than or equal to 7.5 mg/dL and less than or equal to 12 mg/dL at screening
All female patients must be surgically sterile or post-menopausal (at least 45 years of age with no history of menses for at least two years); or have a partner who has undergone vasectomy or must agree to use two medically accepted methods of contraception including a barrier method for the entire duration of study participation unless she reports complete sexual abstinence. Female patients must not be pregnant or lactating
Estimated creatinine clearance (eCrCl) greater than or equal to 60 ml/min/1.73m2 calculated by the Cockcroft-Gault method at screening
Liver function tests less than or equal to 3X ULN for AST, ALT and total bilirubin; less than or equal to 3X ULN for ALP and GGT; and less than or equal to 3X ULN for CK at screening
All other clinical laboratory parameters must be within normal limits or considered not clinically significant
Electrocardiogram (ECG) must be normal, or if abnormal, considered not clinically significant at screening
Systolic blood pressure less than or equal to 160 mm Hg and diastolic blood pressure less than or equal to 90 mm Hg at screening; known hypertensive patients stable (blood pressure [BP] reading as above) with medication may be included
Patients using agents known to influence sUA levels must be on a stable dose and regimen for at least two weeks prior to screening and must be willing to continue the same doses and regimens during study participation
Expected to be able to tolerate a short course of either oral NSAIDs and/or oral steroids as may be needed to treat a flare
Must be able to swallow tablets/capsules
Following training, must be willing and able to understand and complete an electronic diary
*Achieve Clinical Research conducts Phase II-IV Clinical Research Studies in Alabama. For more information about participating in a Gout Clinical Study, please visit our website or contact us directly at (205) 380-6434.