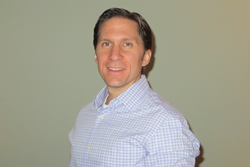 Farmington, CT (PRWEB) April 04, 2014
Solidify® (http://www.solidifycorp.com), an Internet software innovator and leading provider of B2B digital software and services, today announced the appointment of Kevin Colletti as its new President. In naming Colletti to this new position, Solidify's CEO and Chairman Del Merenda said, "Kevin brings a unique combination of management, leadership skills and experience to Solidify that will allow him to best lead the expansion of our digital solution offerings. His previously-held positions at a Fortune 100 corporation; a nationally-ranked marketing agency; and at technology startups, ideally suit Kevin to lead Solidify's expansion to offer an end-to-end suite of digital solutions to our global BtoB markets."
In September 2013, Solidify hired Kevin Colletti to become its new Chief Marketing Officer to help Solidify offer a broader range of digital services to an expanded BtoB market. Over the next six months, Merenda, Colletti and the Solidify team converted the company's 16-year' BtoB-focused eBusiness software suite into a more complete end-to-end digital software and services SaaS solution. The goal of which was to provide BtoB businesses with a digital solution that would help them profitably attract, acquire and retain more global customers.
Now in his new position as President, Colletti will assume responsibility to take this new business model to market that in Colletti's words "will create a vision that will drive more profitable global business for our customers and exceed their goals in the digital space." Merenda added, "Over a very short six months, Kevin has led the creation of Solidify's new brand identity, charter, and value proposition, which messages are now evident on our new website and all other communication channels. Next, by following his lead in strategic planning, website creation and digital marketing, Kevin's team has added a full suite of powerful new digital service offerings to our also expanding eBusiness software suite."
Prior to joining Solidify, Colletti was the VP, Director of Interactive at Cronin and Company, one of the nation's top full-service marketing communication agencies. He was charged with expanding and growing Cronin's digital offerings, helping lead the company into some of its largest growth years. Colletti is also a former President / CEO of one of the Northeast's leading full-service digital agencies. He was responsible for the overall strategic direction of the company. While on the agency side of the business he has helped companies such as United Healthcare, Konica Minolta, Humana, Amica, McDonalds and Neopost with their digital solutions.
Before his agency years, Colletti was the Head of eBusiness Operations at ING Financial Services for the US. Among his responsibilities were, to seek online expansion opportunities for their diverse business units in the US and abroad, and lead development and implementation of the strategies and programs that accomplished ING's online business goals.
Solidify believes that the changes they have made over the past six months occur at a time when their served BtoB markets are showing the greatest interest in the Internet channel. Said Merenda, "Now that we have strengthened our value proposition to become a true end-to-end digital business company, Solidify is now in an excellent position to even better serve our B2B markets in the digital space." Colletti added, "I'm very excited and optimistic about where Solidify can grow by not only reinforcing our leadership position in the B2B eBusiness software market, but now also being able to serve our client's full digital business needs. We will continue to invest in the resources and technology necessary to expand our market share and I look forward to the opportunity to provide the leadership to make it happen."
About Solidify, Inc.
Solidify is a leading provider of (Cloud-based) software, marketing and web services, primarily to the B2B market, helping clients from the origin of marketing to prospects to creating and optimizing their web presence to conducting online transactions through use of their software applications. Since 1998, Solidify has successfully delivered the industry's very best and longest running suite of eBusiness software applications created originally for the BtoB manufacturer market. Today, Solidify is recognized as a visionary agent of change who helps their customers to realign their marketing, service, sales and support resources to deliver a self-service Digital Solution that guides users to intuitively search-for and buy their product offerings. In addition to offering a full-compliment of interactive marketing services, Solidify offers an eBusiness software suite that includes: market-facing interactive product catalog, product configurator and eCommerce; configure-price-quote (CPQ); sales order manager; and other eBusiness modules to help Solidify clients conduct business in the digital space.
Visit us at http://www.solidifycorp.com or phone at 860-674-4124.