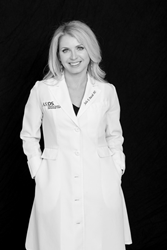 Ultherapy has been proven effective in also treating skin laxity and crepiness in hard to treat areas such as the chest, knees and elbows.
New York, NY (PRWEB) April 03, 2014
April showers bring May flowers, or so the saying goes. But wouldn't it be great if the only thing you had to look forward to in April wasn't rainy days supposedly promising blooms somewhere down the line? If the sound of rain showers doesn't lift your spirits, maybe something else can. This month, Dr. Russak and the Russak Dermatology Clinic team will be doing just that with another special sound; ultrasound.
Ultherapy®
There is an in-between stage from when the skin on the face and neck begins to sag and when a face-lift becomes an option. What can be done to restore firmness and lift the appearance when invasive procedures aren't yet necessary? For those who are not yet ready for surgery but are looking to correct skin laxity in the face and neck, Ultherapy® is the perfect alternative.
Through extensive study and with three FDA clearances proving its unprecedented aesthetic results, Ultherapy® has been proven to non-invasively correct laxity in the skin of the face, neck, above the brow, and under the chin. Its most recent clearance confirmed its use to visualize the dermal and subdermal layers of tissue during the treatment. This allows practioners to see the deep layers of skin they are treating, providing the ability to concentrate treatment on the areas that need it most, further setting apart the treatment as the standard for in-office procedures. Thus, it comes as no surprise that Ultherapy® was named "Best In-Office Treatment" by the beauty authority, NewBeauty magazine, for their 2013 Beauty Choice Awards.
How It Works
Ultherapy® utilizes ultrasound technology to deliver focused energy to the deepest layers of skin, the foundation layer of structural support that is usually only addressed during surgical treatments. The ultrasound energy creates a thermal effect under the skin that acts as a catalyst to initiate the body's natural healing processes, repairing worn collagen and generating new, strong collagen and elastin.
The procedure is done in-office and takes 60-90 minutes. Patients will begin to see the full breadth of their results over the course of 2-3 months, with ongoing improvement noticed even as late as 6 months as collagen continues to strengthen and build up. It does not affect the surface of the skin and there is no downtime, injections, or immediate, drastic change, only natural and gradual lifting and tightening.
Ultherapy has been proven effective in also treating skin laxity and crepiness in hard to treat areas such as the chest, knees and elbows. A powerful compliment to Ultherapy is SkinCeuticals Neck, Chest and Hand Repair ($70).
SkinCeuticals Neck, Chest and Hand Repair
Specifically designed for the skin quality and concerns of forgotten body areas frequently exposed to the sun, Neck, Chest & Hand Repair delivers dual brightening and restoration action. Powerful skin brightening agents fade accumulated damage and age spots, while a combination of targeted actives help support collagen levels to alleviate crepiness. The science behind Neck, Chest and Hand Repair is a combination of 1% hydroxyphenoxy propionic acid, 4% sodium tetrahydrojasmonate, and 3% vigna aconitifolia seed extract that brightens age spots and redensifies skin to minimize crepiness.
Please join Russak Dermatology at our April PUT THE SPRING BACK IN YOUR SKIN event to change your skin through the unmatched ultrasound technology of Ultherapy®.
PUT THE SPRING BACK IN YOUR SKIN ULTHERAPY® EVENT
Russak Dermatology Clinic
115 East 57th St. Ste.1220
Thursday, April 24th
3-6 p.m.
Appointments available at 3 p.m., 4 p.m., 5 p.m., & 6 p.m.
RSVP by Monday, April 21st
to events(at)russakdermatology(dot)com
or call (646) 873-7546
(please specify preferred time slot)
For any questions about our office and services or to book an appointment, visit our website at http://www.russakdermatology.com or call 646-873-SKIN (7546).