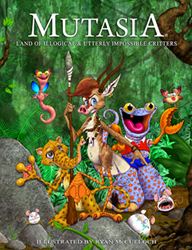 Palm Beach Gardens, FL (PRWEB) April 03, 2014
Mutasian Entertainment LLC, a creative educational entertainment company, announced today that it is participating in the 2014 BookExpo America. The show is taking place at the Javits Center in New York City from Thursday, May 29 through Saturday, May 31, 2014. Mutasian Entertainment will exhibit in the Children's Pavilion in booth C1784.
The company will showcase its traditional and digital books where readers can follow the exciting adventures of the uniquely mixed up inhabitants on the wacky island of Mutasia. Adventures now available in the illustrational storybooks include "Mutasia: The Land of Illogical & Utterly Impossible Critters" and "Mutasia: Figley's New Favorite Food", as well as the first two installments in the character educational series of Mutasia: The Wacky World of Figley Finch titled "The Endless Caverns" and "Clubhouse Clash". Additional illustrational and character educational titles are expected to be released later in 2014.
Mutasian Entertainment will also be displaying its coloring apps for children available for the iPhone and iPad, a made-for-television animation pilot "Mutasia: The Mish Mash Bash" as well as its original music compositions on the album "Mutasia: When Nature Calls".
BookExpo America is North America's largest annual trade event bringing together thousands of publishing and book industry professionals.