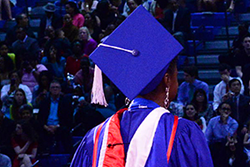 Honorary Degree recipients include Katie Couric, Paul J. Diaz, Paula J. Dobriansky, Gwen Ifill, Cecilia Muñoz and Judy A. Smith
Washington, D.C. (PRWEB) April 03, 2014
Leaders in journalism and politics, a healthcare services CEO, a seasoned American diplomat, a White House executive, and a nationally known crisis communications expert will address American University's graduates at the 128th commencement ceremonies on May 10 and 11, followed by the law school ceremony on May 18.
Katie Couric, an award-winning journalist and TV personality, will address graduates of the School of Communication at 9 a.m., Saturday, May 10. Known for being the first female solo anchor of an evening broadcast and her devotion to cancer research, she is currently the global anchor for Yahoo! News and the host of the daily talk show Katie. Couric will receive an honorary Doctor of Humane Letters degree.
Paul J. Diaz (Kogod/BSBA '84) will speak to the graduates of the Kogod School of Business at
1 p.m., Saturday, May 10. Named by Modern Healthcare magazine as one of the most powerful people in healthcare, Diaz serves as the chief executive officer of Kindred Healthcare, Inc., one of the largest providers of healthcare services in the country and is a 1984 alumnus of AU's Kogod School of Business. Diaz will receive an honorary Doctor of Laws degree.
Paula J. Dobriansky is honored as the longest-tenured under secretary of state in history, is a recipient of the secretary of state's Distinguished Service Medal, and is known for her contributions to the historic devolution of power in Belfast, Ireland. At 4:30 p.m., Saturday, May 10 she will speak to the School of International Service graduates. Dobriansky will receive an honorary Doctor International Affairs degree.
Gwen Ifill is moderator and managing editor of PBS's Washington Week and co-anchor and managing editor of PBS Newshour. She has covered seven presidential campaigns and is the best-selling author of The Breakthrough: Politics and the Race in the Age of Obama. Ifill will speak at the School of Public Affairs ceremony at 9 a.m., Sunday, May 11. She will receive an honorary Doctor of Laws degree.
Cecilia Muñoz, assistant to the president and director of the Domestic Policy Council will speak
at 1 p.m., Sunday, May 11 at the College of Arts and Sciences ceremony. For more than twenty years, Muñoz supervised the nation's largest Latino civil rights organizations, the National Council of La Raza, covering a number of issues that include civil rights, employment, farmworker issues and immigration. Muñoz will receive an honorary Doctor of Public Service degree.
Judy A. Smith (WCL/JD '86), founder and president of Smith & Company, a leading strategic crisis communications firm, will speak to graduates at the Washington College of Law ceremony at 1 p.m. on Sunday, May 18. Smith, a WCL 1986 graduate, serves clients facing a range of domestic and international challenges with legal and political insight. She has handled historic events such as the Iran Contra investigation, the Los Angeles riots and the Congressional inquiry of Enron. She will receive an honorary Doctor of Laws degree.
More information on the speakers is available on AU's commencement website.
In addition to conferring honorary degrees, American University President Neil Kerwin will present the President's Award, the highest award for undergraduate students, to a graduating senior who has displayed a longstanding commitment to building community and promoting AU's ideals of academic achievement, integrity, selflessness, leadership, and service.
American University will confer degrees on more than 3,500 undergraduate, graduate and law school students. More than 2,500 will participate in the commencement events on Saturday, May 10, and Sunday, May 11, in American University's Bender Arena. It is a longstanding tradition for American University to hold graduation ceremonies on Mother's Day weekend. One week later, on Sunday, May 18, at 1 p.m., students will participate in the Washington College of Law's graduation ceremony, also held in Bender Arena.
Students, alumni friends, and family will be tweeting using the hashtag #2014AUGrad. Those who cannot attend the ceremonies will be able to watch a live stream of each ceremony on the American University website.
Located in Washington D.C., American University is a leader in global education, enrolling a diverse student body from throughout the United States and more than 140 countries and providing opportunities for academic excellence, public service, and internships in the nation's capital and around the world.
Media RSVP:
On-site registration will be at the Bender Arena lobby. All media must be checked in no later than 15 minutes prior to the start of each ceremony. Parking is available at the Asbury parking lot next to the arena. Downloadable map is available at: http://www.american.edu/aumaps/
To RSVP and for additional media assistance for the May 10 and 11 ceremonies contact AU's Communications Office at 202-885-5950. Day-of-event contact can be reached at
cell: 202-345-3295. The May 18 Washington College of Law ceremony contact is Franki Fitterer, 202-274-4279.