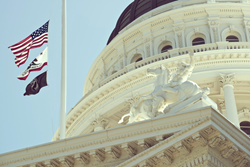 The Retail Order Period will be Wednesday, April 9th, 2014.
Walnut Creek, CA (PRWEB) April 02, 2014
Alamo Capital announced Wednesday, April 2, 2014 that the company has been selected to be Co-Manager on the State Public Works Board of the State of California Lease Revenue Bonds 2014 Series B & C. As Co- Manager, Alamo Capital will assist the overall structuring of the California bond, which includes scaling & pricing as well as review of the Preliminary Official Statement and related bond documents. The Retail Order Period will be Wednesday, April 9th, 2014.
About Alamo Capital
Established in 1987, Alamo Capital is a Broker Dealer located in Walnut Creek, California, with over 25 years of experience specializing in tax-exempt investments. Our aim is to provide timely and efficient executions of investment transactions for our retail, institutional and wholesale clientele. As a full service investment firm, clients have access to fixed income investments, retirement planning and all aspects of insurance with the help of our account representatives with a "CAN-DO" attitude. Alamo Capital is certified with the NWBOC (National Women Business Owners Corporation), the WBE (Women's Business Enterprise), the SBE (Small Business Enterprise) and Better Business Bureau (Rated A+).