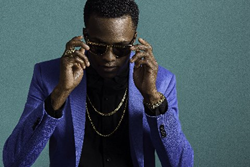 "Kate Moss," the free download, is named after the supermodel and embodies the sultry sex appeal and lusty allure of DXXXY's beloved New Orleans at night.
New York, NY (PRWEB) April 03, 2014
Fast. Thumping. Hot. Dirty. New Orleans-based DJ and producer, DXXXY, is breaking out with his latest original production, "Kate Moss." The download, named after the supermodel, embodies the sultry sex appeal and lusty allure of DXXXY's beloved New Orleans at night. The track will be released as a public download on April 4th, 2014.
Drawing inspiration from the world of fashion, DXXXY (pronounced "deity") creates a world of melodies with "Kate Moss" and a syncopated beat that club goers find irresistible. One can imagine "Kate Moss" reverberating throughout the sweaty, ecstatic crowds packed together at DXXXY's monthly "Dan$e Noir" parties. What DXXXY does best is draw upon his own experiences to find the dark beauty that lies within each one of us. It is this beauty born of the night that brings DXXXY's enthusiastic revelers together time after time.
Creating suspense for the listener one beat at a time, the lyrics of "Kate Moss" tease, "There is no reality to celebrity," a recurring theme throughout DXXXY's music. With filthy glitch-hop progressions, DXXXY comes onto the scene fully loaded and showing no mercy when the drop comes in, soaking the listener in a unique blend of trap and electro.
The official music video for "Kate Moss" personifies the song, bringing DXXXY's imagery to life. Directed by Tyler Yee, creator of music videos for artists such as Carnage, T.I., Juvenile and more, DXXXY has worked his magic for a highly stylized feel.
Having performed opening or closing DJ sets for artists as varied as Flux Pavilion, Major Lazer, Zeds Dead and others over the course of various live events, DXXXY is setting the stage for an electrifying year ahead with this addictive dancefloor destroyer.
Watch the official music video for "Kate Moss" here: https://www.youtube.com/watch?v=Y0ILQqP0giY
Download a free copy of the "Kate Moss" track here: https://www.facebook.com/xdeityx/app_195646697137509
For more information, contact EMILY TAN Media Relations, EmilyEmilyTan@aol.com, +1(917) 318-3758.
# # #