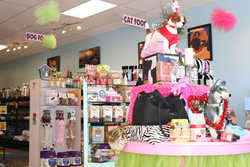 Colorado Springs, CO (PRWEB) April 04, 2014
Furry Friends Inc., a 12 year old locally owned, Colorado family business celebrates the newest addition to their full service wholesome pet business. They are hosting a Grand Opening of their newest pet store that boasts a boutique setting with a do it yourself dog bath to be held April 4th-6th in the Woodmen Plaza Shopping Center at Woodmen/Rangewood in the King Sooper's Shopping Center.
Furry Friends Inc is the only pet store in town that has created a more up scale boutique setting for pet lovers to enjoy. However, don't let the chandelier and Toole adorned tables fool you, Furry Friends Inc newest location still offers hard to find items along with the well trained staff to answer all the questions about your furry friends diet, nutrition, and health needs. Furry Friends Inc has always been a step ahead in the Colorado Springs pet market by offering free home-delivery in 2002 with their own trademarked super-premium private labeled pet foods.
"Our exclusive, super-premium pet food, Pet's Healthy Choice has never had a recall since its inception in 2002. We test and hold every batch and it is most important for us to provide the community with complete nutritional assistance along with items people cannot find anywhere else", says Debbie Brookham, CEO & Founder of Furry Friends Inc. The entire family helps in the business and has made it a life-long mission to research nutrition for dogs and cats.
Colorado Springs has nothing like this pet store in town. Furry Friends Inc also offers the community a one-of-a-kind walk-in dog shower for large or arthritic dogs. This will provide the community with a viable option to wash their dogs without having to lift them or causing the dog any pain. The new Beach Club format do-it-yourself dog wash was created with the help of a leading Colorado Springs artist, Carole Morrison of "Off The Leash Art". The Beach Club has a wall-sized mural of dogs enjoying the beach including a surfer, palm trees and beach balls. Hawaiian music creates a unique vacation like atmosphere to wash dogs and meet up with other fellow pet owners. Furry Friends Inc. was distinguished as honorable mention as "Retailer of the Year 2013" in Pet Age Retailer Magazine. Furry Friends Inc. supports the National Mill Dog Rescue locally and donated several thousands of pounds during the devastating fires in Colorado Springs.
Colorado residents can learn more about Furry Friends Inc. by visiting http://www.furryfriendsinc.com. For additional information contact Debbie or Tracy Brookham 719-495-7387 or info(at)furryfriendsinc(dot)com. Become a part of our facebook community.